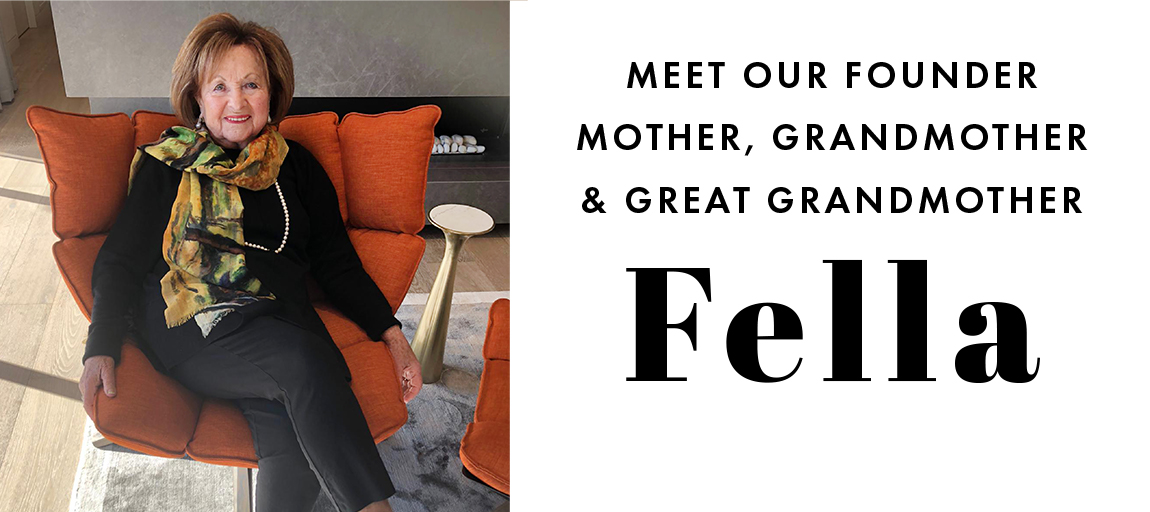 With Mother's Day 2020 almost upon us, it is a time to reflect on how all Mum's and women can be made to feel special, especially in a year where Mother's Day celebrations may look a little different.
It's been so special highlighting five of our Fella Hamilton Mum's for the past few weeks, seeing how they have adapted to life during COVID-19, how they manage a work-life balance with their families, and what their favourite Fella Hamilton winter fashions are.
Now let us look at the Mum who started it all, Fella Hamilton. Fella was 44 when she started her own Fashion business, and had two young children of her own. That in itself is an inspiration to any mother looking to start a business, and especially such a successful Australian fashion brand.
Fella's strong family values have shined through the company, as she has spent many years working alongside her son David and daughter Ann, and their spouses Sharon and Michael. Since retirement, Fella's interest in the business hasn't wavered, and is evident even to present day. However, the past few weeks have definitely held changes, both for the business and Fella.

While it has been a tough time for the retail industry, Fella has been in daily contact with David and Sharon about the business's recent development of Australian Made Healthcare wear.
"It's very humbling to know that the business has been able to change their focus from fashion to helping the health sector manufacture the gowns and scrubs that they need."
During COVID-19 restrictions Fella mainly stays at home, meaning her usual fashionable wardrobe for a day of lunching with friends has changed to more of a comfortable wardrobe of choice that suits her daily stretches and walks.

That's not to say she doesn't have her favourite Fella Hamilton fashion items on hand, for when the next outing might be.
"I am loving the silver tones in the current range at the moment, especially the silver cashmere blend Dulce cardigan and silver Morse sweater. So easy to wear and mix and match with black ponti pants."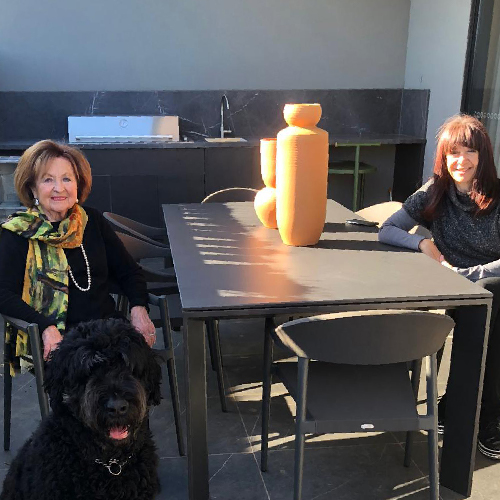 Fella enjoying the lovely sunshine on her balcony at home with daughter-in-law and CEO Sharon, who lives in the apartment below, and her beautiful dog, Bella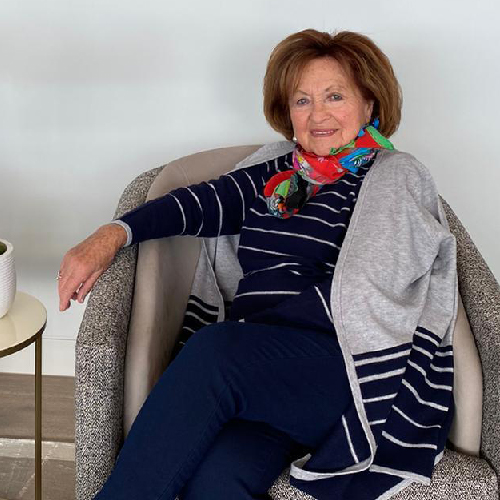 Fella is fond of the silver tones of the Fella Hamilton winter collection, worn in the comfort of her own home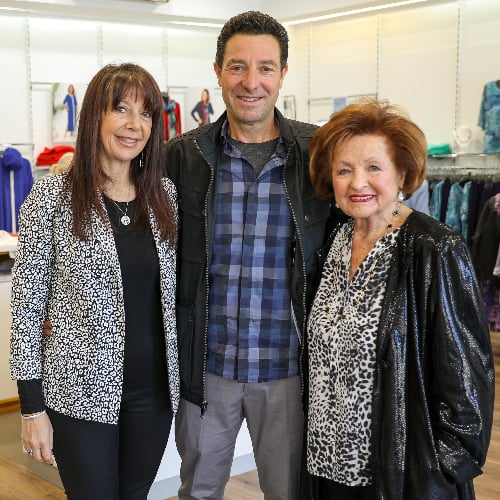 A flashback to Fellabration day last year where Fella attended the 50th year celebrations at our first store in Hawthorn with her son David and daughter-in-law Sharon
Not being able to see her extended family has been the hardest thing for Fella in the past few weeks. She still doesn't see David and Sharon as she normally would, but they are regularly checking in on her, and dropping off meals. A slightly different habit than Fella's normal routine of having dinner at her children's places a few times a week.
Not only is Fella lucky enough to be a mother of two, but she is a grandmother to 6, and has a 1 year old great grand-daughter who she saw take her first steps at a distance in her front courtyard a couple of weeks ago.
As well as strong business and family values, Fella also prioritises her health and wellbeing. "Covid-19 hasn't stopped me from doing my normal exercise routines of daily walks and a daily swim," which she does every day in David and Sharon's pool, in the apartment below her.
It's so inspiring that a woman who has launched a business in her late 40's, is a mother, grandmother and great-grandmother, still prioritises exercise and health in her daily routine.
Like many mums, Fella also loves being pampered. She loves her weekly blow wave and nail appointment, as well as going out for dinner or a nice lunch with family and friends, which she is looking forward to doing once restrictions are lifted.
While Fella doesn't have plans for Mother's Day this year, she thinks fondly of the years where there have been extended family dinners at her home, and gives a touching message to Fella Hamilton customers.

We wish all the Mum's out there a very Happy Mother's Day!
The Fella Family XX
SHOP FELLA'S FAVOURITES HERE!
Back to Meet the Team