MEET THE TEAM | HEAD DESIGNER: ADRIENNE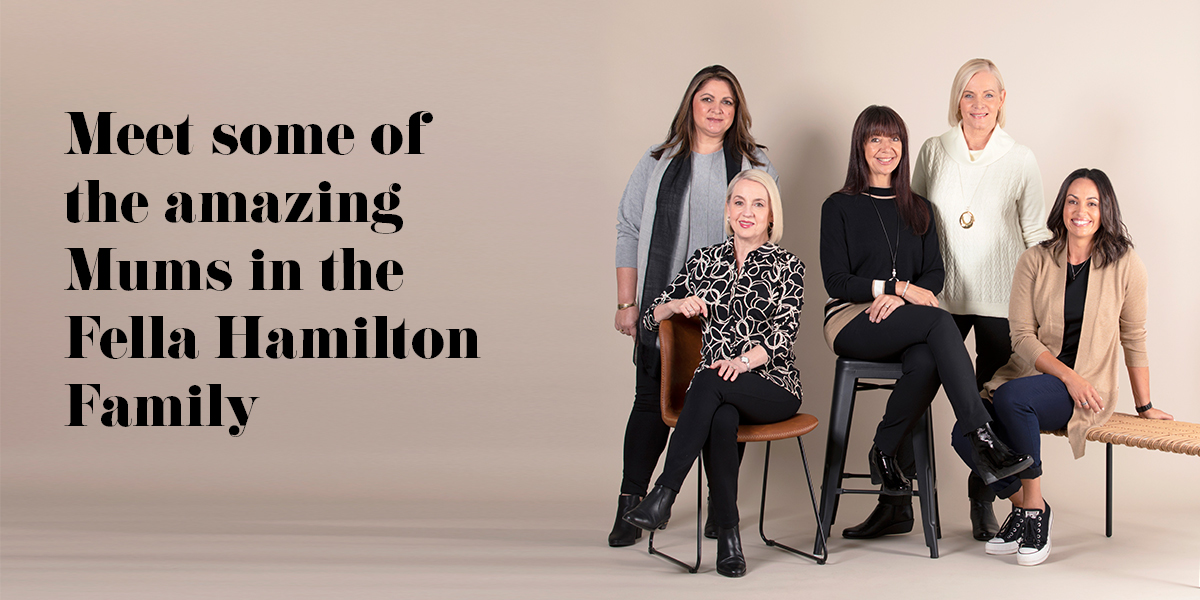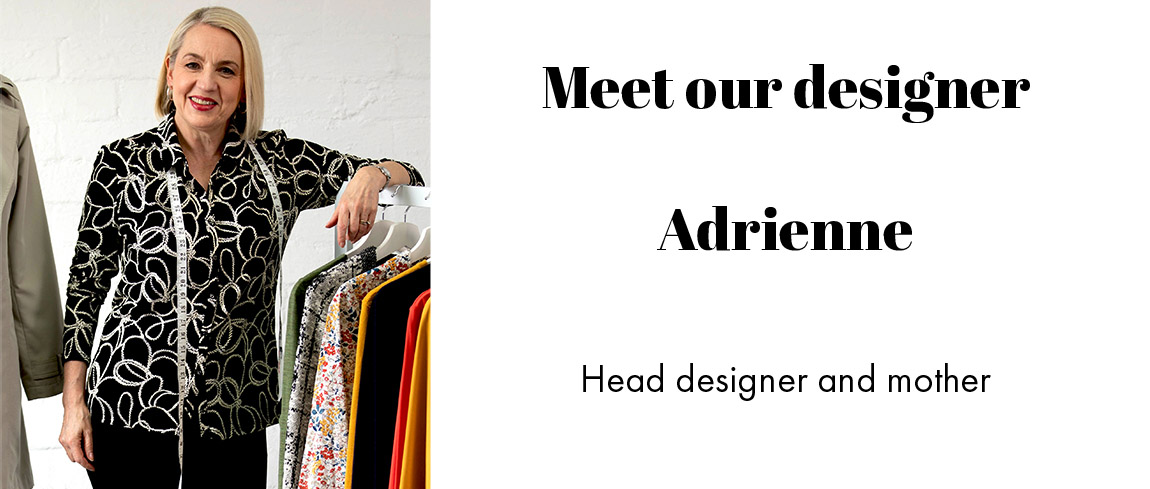 The Fella Hamilton fashion you love is all thanks to our head designer Adrienne who has balanced designing for the last 11 years whilst raising her son, now in his 20's, and still having time to exercise and take time out for herself. She enjoys choosing and developing fabrics and finding inspiration for designs from around the world. She then makes sure every design not only fits but also ticks all the right boxes for our lovely Fella Hamilton customers.
If you have bought a Fella Hamilton garment in the last 11 years you have are wearing one of Adrienne's designs. She takes pride in what she does as part of the Fella Hamilton family and loves seeing the designs in store and on our stylish customers.
"I like seeing the final product in store and see our happy customers wearing our clothes when popping out for a coffee catch up on Saturdays, at weddings and when out for dinner. We have a diverse range, catering to every occasion."
Adrienne takes inspiration for collections from our namesake, Fella Hamilton...

Adrienne is fortunate enough to have two buying trips per year, to see the fashion trends and influences where she gets most of her inspiration for the designs she creates for Fella Hamilton. Her latest European trip was at the end of February this year, just as the COVID-19 crisis was worsening. "If I had gone on this trip only one week later, things may have gone very differently. As it was, I was able to see many exciting new ranges in stores in Europe and I was one of the lucky ones to be able complete this trip."
A day in the life of Adrienne on a buying trip starts with a quick breakfast before immersing herself into the surrounding shops from the moment they open until the very end of the day. "I have my staple stores that I like to visit every year and plan into my itinerary, but I also make sure to leave time to check out any new boutiques and shops." Luckily in Europe shops stay open later so she tries to see as much as she can before they close around 8pm. Days are intense and long but these trips are essential.
Adrienne's suitcase essentials include "a pair of cute and comfortable runners, a nice scarf for easy accessorising and always black everything… black tops, black pants, and black jackets!"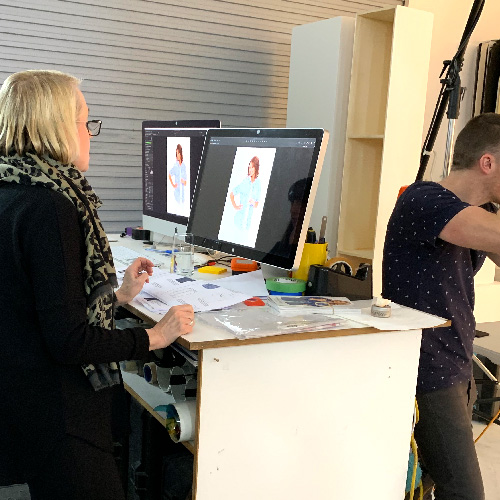 Adrienne overseeing the photos beeing taken at our seasonal photoshoot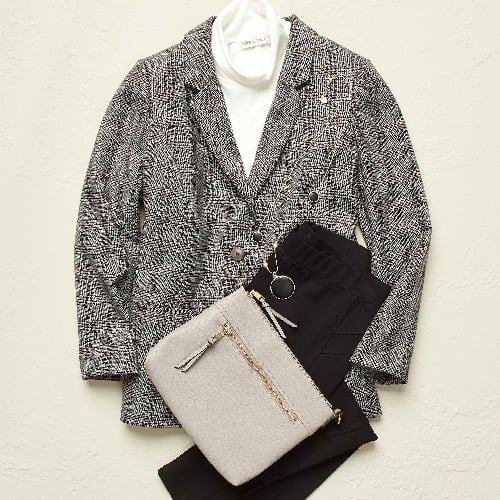 A check jacket is one of Adrienne's favourite Fella Hamilton staples this season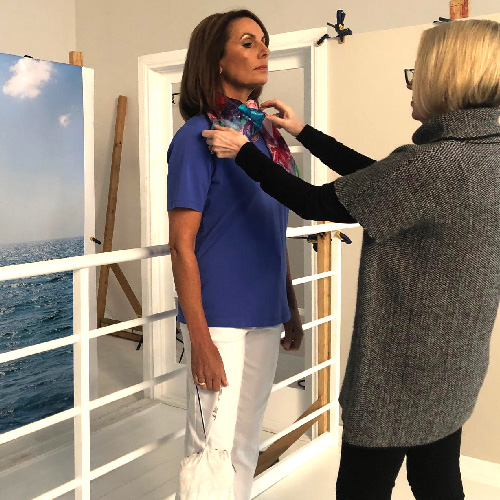 Adrienne styling the model at our seasonal photoshoot
When Adrienne is back at home, she balances designing the collections and spending time with her husband and son. Whilst at work, first stop for Adrienne is for a drive through coffee and then she is straight to the office to her full inbox.
"I check in with the pattern maker, sample cutter, machinists and design assistant for the day ahead. Looking at fabric ranges, sketching, range meetings and fittings on our house model."

With such a packed schedule she takes time to balance her working life with family life and also takes time for herself to relax, and making time for friends. Spending time with her friends and neighbours is one of her top priorities.
"It's important to hold onto friendships and still have fun."
When it comes to time to herself and relaxing Adrienne loves to take walks, often accompanied by her spoodle Avalon or doing some sketching. "Designing helps to ease my mind and keeps me well-balanced, it's a form of escapism for me."
So what advice does she have for other working mothers that may see her packed day and wonder how she does it? "Having a good and understanding partner is important! Organisation is also key, being organised for the week ahead at home so that I am always ready at work."
The advice Adrienne says has helped to shape her and her life came from her mum, "you can achieve anything if you put your mind to it."
As a lover of fashion, how would she describe her personal style?
"Classic with a fashion edge."
Some of Adrienne's favourites from the latest winter season range include "a knit or check blazer that coordinates with most of our winter range. We have beautiful cashmere blend coats in the new season colours that are a must for our cold winter days. I also love the Spice Market colours and bright, soft knitwear."
While this year's early winter collection was designed prior to the global health crisis hitting, COVID-19 has impacted how Adrienne operates as a designer in Australia. "We had to remain flexible as timelines changed daily for deliveries of our Winter collection and development for Summer." In more recent weeks as the virus began to spread in Australia, Adrienne had to scale back our usual production and slow down development on our new season collection. "We have all reduced the number of days working in the office and adjusted to working from home as much as possible."
Adrienne has had to pivot her attention quickly as new tasks take priority, such as the new endeavour of designing and producing healthcare wear. "This is keeping us very busy designing new styles, patterns, samples, refine fits and produce these styles on a quick turnaround time as our allied health care workers in Australia are in urgent need."

It is at times like this that Adrienne is thankful for her creativity and community support at work and at home. "My lovely neighbours have taken to looking after each other in small (and socially distanced) ways, such as leaving yummy homemade treats on each other's doorsteps."
Adrienne is thinking of Fella Hamilton customers at this time and encourages you to "invest in your hobbies and do things that bring you joy. Take time to reach out to family and friends to keep connected. And don't forget to wash your hands!"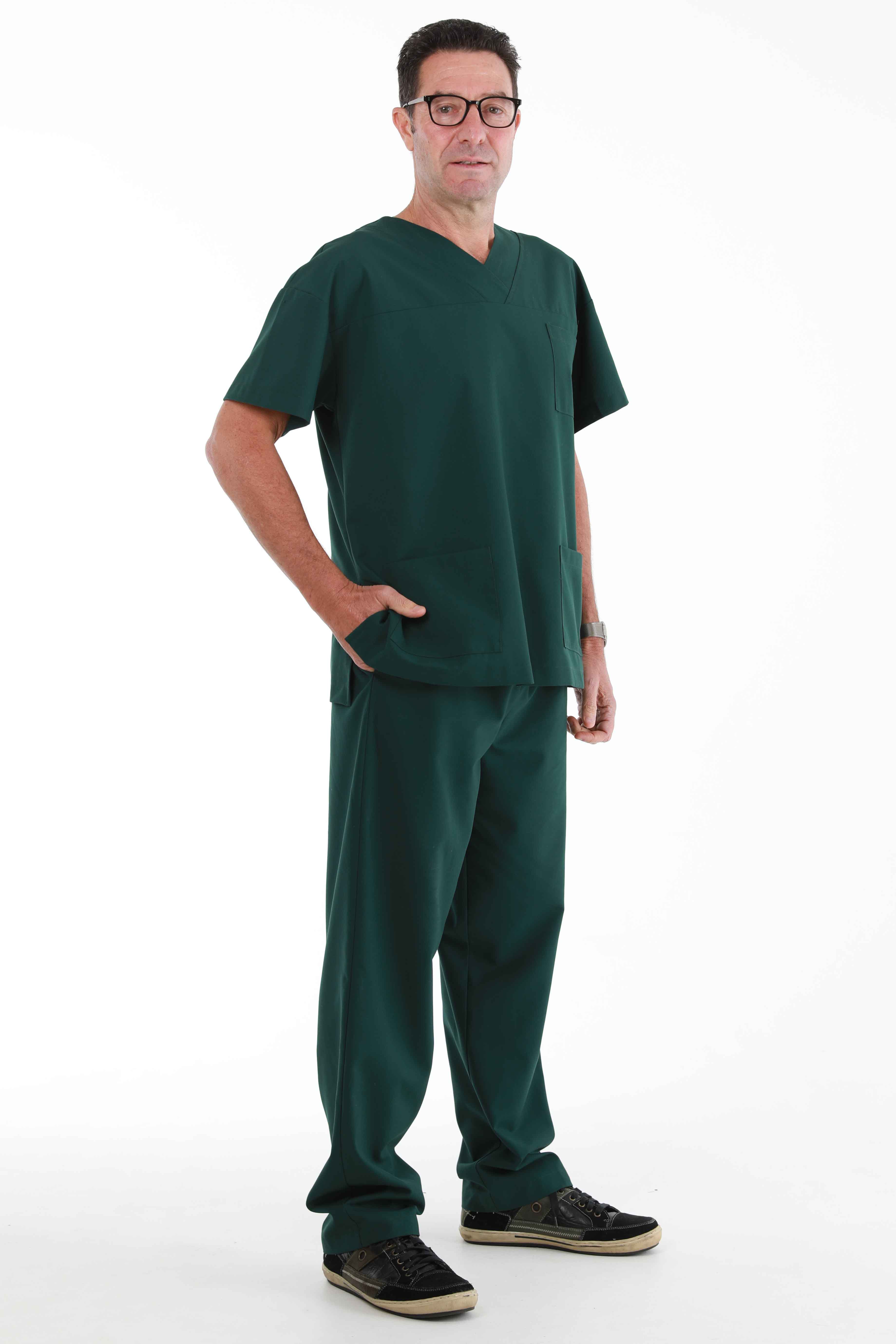 SHOP ADRIENNE'S FELLA HAMILTON FAVOURITES HERE!
Back to Meet the Team