MEET THE TEAM | MAIL ORDER: JENNIFER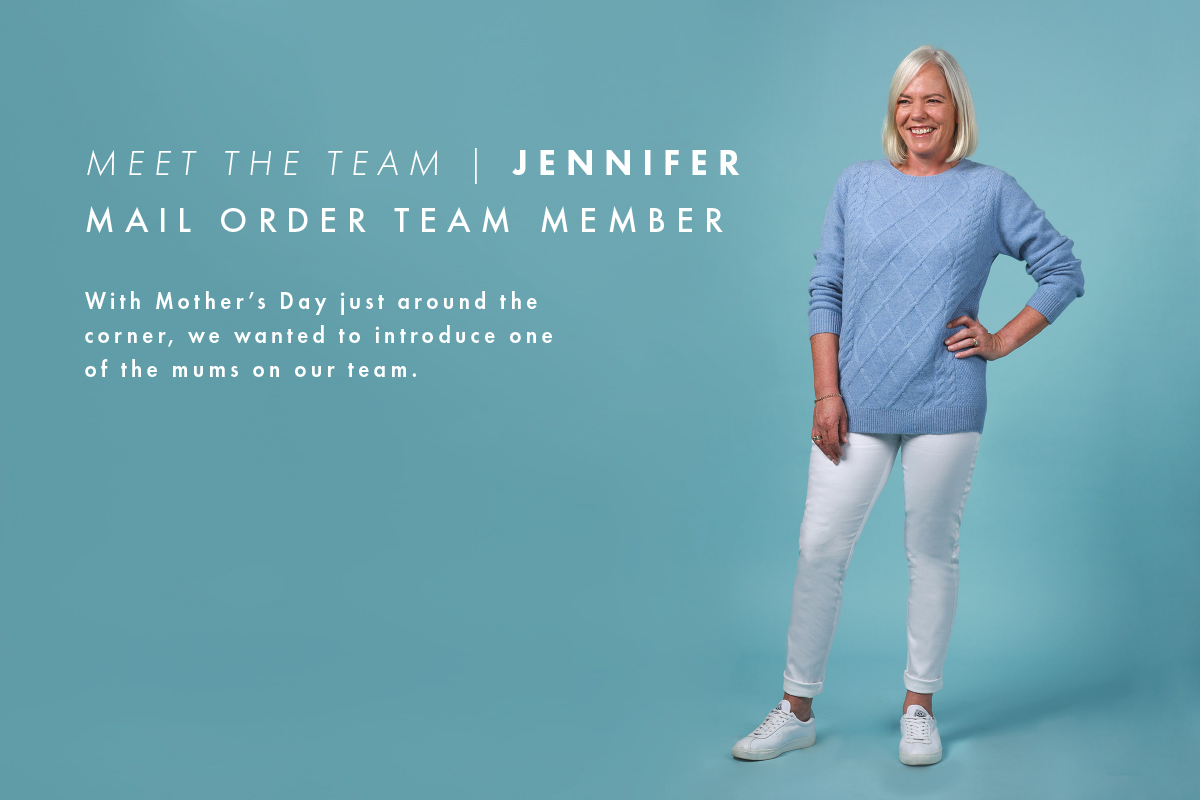 Q1: HOW LONG HAVE YOU BEEN PART OF THE FELLA HAMILTON TEAM?
I started working with the Fella Hamilton Team at the beginning of May nearly six years ago. I am amazed how quickly the years have passed. It is so great to be a part of an Australian owned company that continues to grow and strengthen in difficult times.


Q2: WHAT'S YOUR ROLE HERE AT FELLA HAMILTON?
My main role at Fella Hamilton is working in the Mail Order Department, liaising with customers over the telephone and handling website orders. I am also involved with our 'Birthday Club' ensuring all our loyal customers feel a little special on their birthday. In addition to this, I have worked in the Hampton store on Saturdays, and helped out in the Clearance store when needed.


Q3: YOU'RE A MUM – HOW MANY KIDS DO YOU HAVE AND HOW OLD ARE THEY?
I have two children; Emma is 23 and working hard in Human Resources and my son Oscar is 20. Oscar is living a busy life combining studying at university with working part time and playing soccer. I love them to bits and I'm definitely a very proud mum. Our last family trip together was in Bali. It was a special family celebration with Oscar's 18th birthday, Emma's 21st birthday, my 50th birthday and our silver 25th wedding anniversary - all within a month of each other.


Q4: HOW WILL YOU BE CELEBRATING THIS MOTHER'S DAY?
This year we are planning to dine out for lunch with Mum and Dad along with my two sisters and their families. After lunch, we will head off to my mother in-laws and catch up with the other side of our family.


Q5: AND HOW DOES THAT DIFFER FROM LAST YEAR AND BEING IN LOCKDOWN?
Last year during lockdown I was very fortunate to be able to see my mum on Mother's Day, although very briefly. My parents live very close to me, within the 5km bubble, so I was their main support person dropping off groceries and meals. So, on Mother's Day last year we had a quiet lunch at home and then I popped in with afternoon tea and groceries to my mum.


Q6: AS A MOTHER, WHAT ARE YOU MOST GRATEFUL FOR?
As a mother I'm most grateful that we are all ok and doing well. Sounds simple, but it's true!


Q7: HOW DID YOU CELEBRATE MOTHER'S DAY WITH YOUR MOTHER WHEN YOU WERE YOUNGER?
When I was younger, I would always give Mum a present that I had made at school or a gift from the Mother's Day stall. I have fond memories of lots of food, singing and laughter at my Nana Molly's house with all the extended family including all my aunties, uncles and cousins. There was a lot of good old Irish fun! Nana Molly passed away last year at the age of 103 years.


Q8: WHAT WOULD YOUR DREAM MOTHER'S DAY GIFT BE?
I don't really have a dream Mother's Day gift, I'm happy with tea and toast in bed and maybe a bunch of flowers. Just no kitchen or household appliances please!
A QUADRUPAL CELEBRATION IN BALI WITH JEN, HER HUSBAND & CHILDREN
JENNIFER AT THE BEACH WITH HER CHILDREN WHEN THEY WERE YOUNG

Back to Meet the Team