MEET THE TEAM | MERCHANDISE PLANNER: MARIA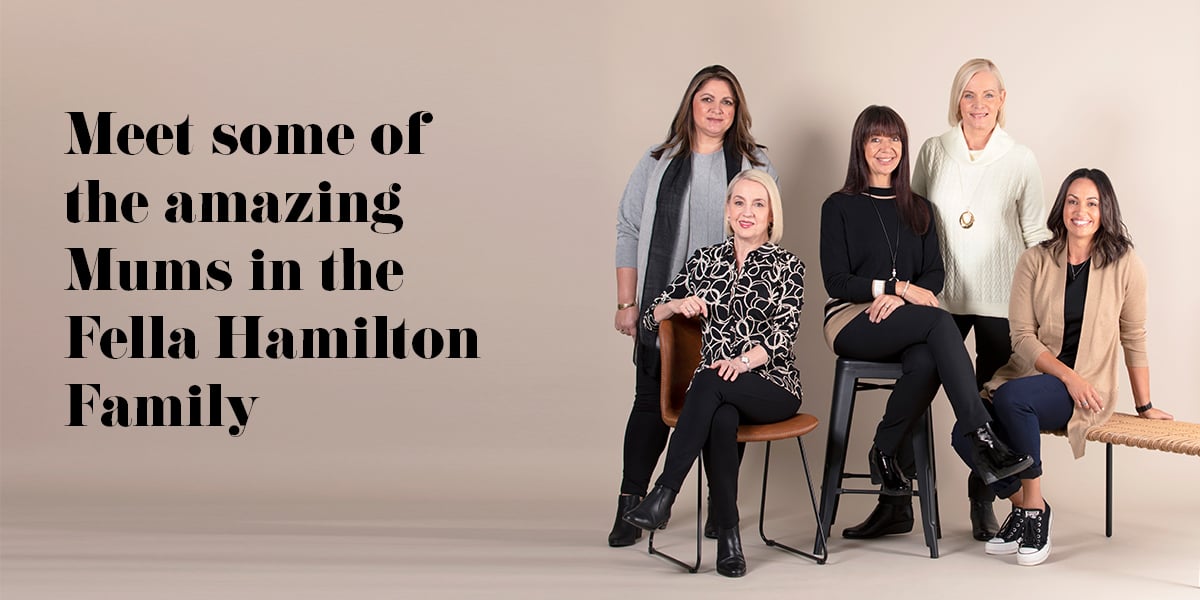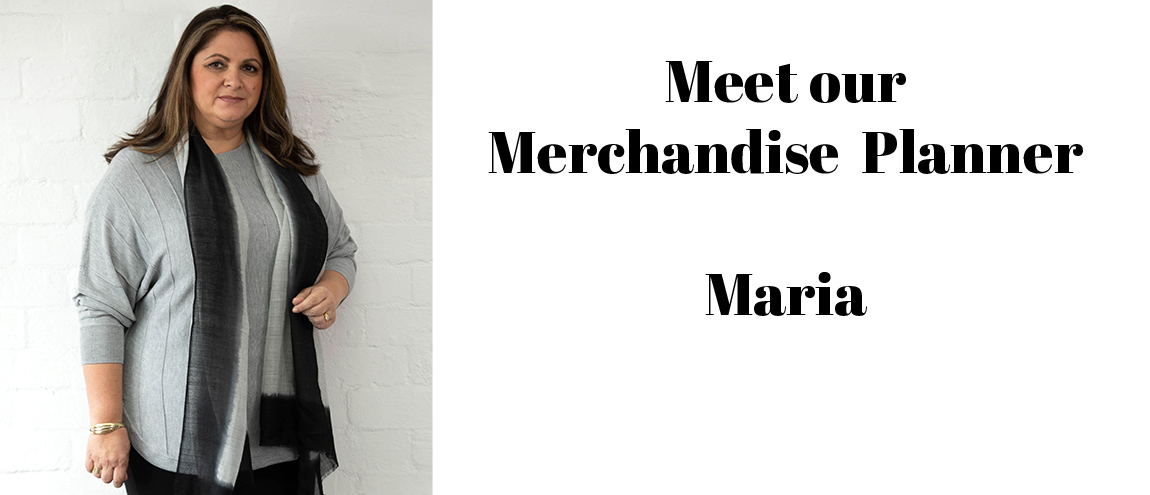 Fella Hamilton's merchandise planner Maria has been working with the company for 11 years after taking a break to have her two sons, now teenagers. She started part-time in the mail order department then gradually started working on more planning tasks which allowed her role to evolve into what it is today.
As the merchandise planner she works closely with Adrienne the designer at Fella Hamilton to help plan the new season styles and ranges whilst also sourcing accessories for the range. She also helps to work out the costs, quantities and organise deliveries. Prior to Covid-19 Maria's main focus was monitoring sales of the new winter collection and ensuring deliveries were on schedule as well as working on the new Summer 2020 collection.
"We were ordering new styles for spring when we had to put a pause on the new collection due to COVID-19 as it was too much of an unknown when our shops would re-open or when the new collections would launch."
For the last two weeks, every work day for Maria has been completely different. Fella Hamilton's local manufacturing has taken a whole new direction to make and supply medical scrubs and gowns.

Maria has found this unconventional change to manufacturing very rewarding "especially as we have been all able to work as a team quickly to make this happen."
Maria has worked on planning our healthcare collection for the past 2 weeks

While working at Fella Hamilton is a big part of Maria's life, so is her home life with two teenage sons and a husband that works nights. When it comes to how she balances being a working mother she offers this advice, "You can't do it all even though you try! You just have to stay focused when you are at work and do your job, and when you get home you do the same. It helps to have a family that understands your passion for your work but you also have to make room for fun things too."
So how does Maria balance her life as a working mother, especially now with a 14 and 17 year old home schooling while the COVID-19 restrictions are in place. "There is obviously a very big change to home life for us as we have to keep the boys motivated and engaged in their learning journeys but without the normal extracurricular activities that they also do at school. They will also be missing the social aspect of seeing their friends and having the interaction with their wider school community. "
The COVID-19 crisis has enabled a more relaxed home life for the normally busy mother of two. With after school sports trainings and weekend sports games all suspended and social catch ups on hold, it has allowed more family time and conversation with her boys. "I find as my boys are older now, we actually have a lot to talk about. We can discuss what's currently happening in the world, how we feel and how we react to these changes. I have been really impressed with how they have adapted to the changes in their lives."
Normally Maria's daily catch up with her boys would be in the car on the way to and from school, but during a time when her boys are now learning remotely from home, she believes in keeping routine the best way possible.

Having breakfast together before Maria leaves for work is their time together, and she makes sure she checks with them through the day even though her husband is home with them.
"I still call them after 3.30pm just to ask them how "school" was, like I normally would when they were physically going to school."
"Having a husband that works nights has been something that as a family we just have to work with. In one sense it means that when the boys were younger my husband got to spend time with them during the day and when they went to school, he had time with them after school until the early evening when most Dad's would just be getting home from work. Sometimes it gets difficult for me and for my husband when there are a lot of functions or work commitments but this is our life and we try our best to make it work for our family."
Maria does sound like a conscious planner, both in work and home life. When it comes to how Maria lives her life she likes to follow the advice her grandmother once gave her which was to trust her first instinct. "This is something I still live by and it's never failed me. If I get a bad feeling about someone I meet or a situation it's always been right."
As the merchandise planner for Fella Hamilton Maria helps to plan the range for each season. So how would she describe her own personal style?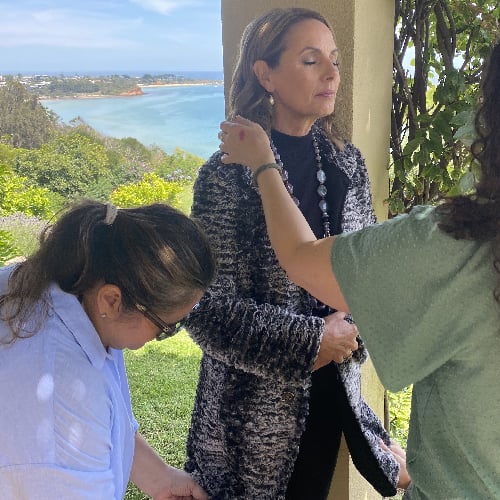 Maria is hands on out our photoshoots, playing the role of stylist at our latest winter shoot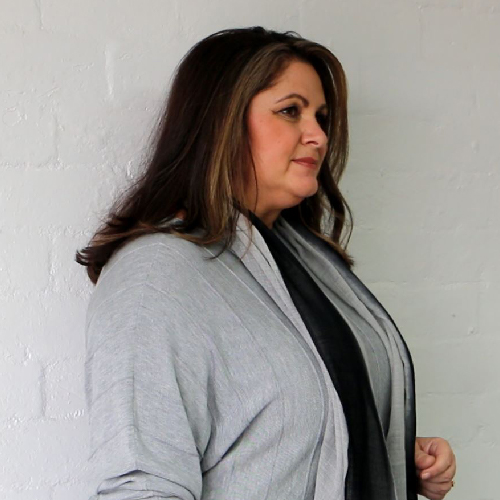 Maria wears neutral colours well, and opts for a monochromatic wardrobe for her work week
Maria has also had the opportunity to assist Adrienne our designer in sourcing fashion samples and inspirations from Paris
Sounds like she likes simple but quality fashion. As this is just what Fella Hamilton produces it should be easy for her to choose her favourite Fella Hamilton fashion pieces.
"This season I love the silver cashmere coat, the quality and fit are beautiful and our Hedrena 100% Australian Merino tops are the best basics to wear."
Well that makes sense as she loves winter "all I need is a well-made coat that can go with everything and some great knitwear and I feel comfortable and put together for work and weekend outings and what I really love is that fashion runners can now be worn with nearly anything these days."
With Mother's Day coming up next month, Maria is thankful to have her Mother and Mother-in-law close by, and well versed in facetime for a social-distance catch up, as well as her boys at home to spend time with. She encourages Fella Hamilton customers to focus on the simple things in life, and enjoy company with their family and friends, even if it has to be through Facetime!
"One thing that is ironic as a planner is that this current situation has shown me that you can't plan for anything, it's how you react to the sudden changes that can show you a new perspective. I am trying to see the positive in this situation and tell my boys that it's not about what we are missing out on at the moment but it's more about what we are gaining - time to really reflect and connect with who and what is important in our lives."
SHOP MARIA'S FELLA HAMILTON FAVOURITES HERE!
Back to Meet the Team