MEET THE TEAM | REGIONAL MANAGER: SUSIE

SUSIE STARTED AT FELLA HAMILTON AS A CASUAL SALES ASSISTANT AND NOW SHE IS THE REGIONAL MANAGER FOR HER AREA IN ADELAIDE WHICH INCLUDES FIVE STORES. WE HAD A REMOTE CHAT WITH SUSIE.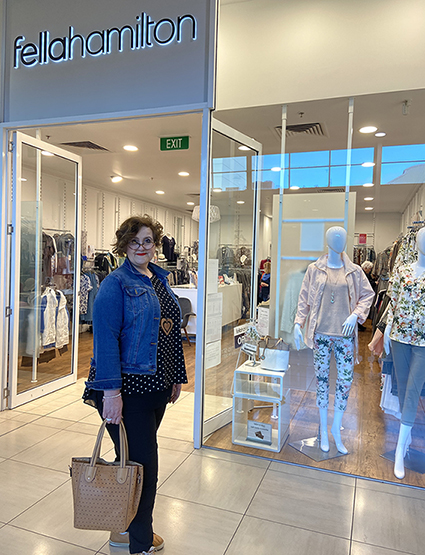 Q1. How long have you been working for Fella Hamilton?
I started at Fella Hamilton as a casual sales assistant in February 2018, so it's been 2½ years now.
Q2. What is your role at Fella Hamilton?
I'm the Regional Manager for my area in Adelaide and am also the Store Manager of Mitcham.
Once I began at Fella Hamilton, I knew from early on that I loved the Company, it's ethics and culture from the ground up, and wanted to invest more of my time and experience in making a contribution. I felt like I had come home.

Q3. How many stores do you manage?
I look after 5 stores in Adelaide - Mitcham, the first store we opened in South Australia, along with Norwood, Glenelg, Harbour Town and Adelaide Arcade.
Q4. With summer around the corner, what do you look forward to offering your customers?
I'm loving the look of the Spring range which is flowing through our stores at the moment, it's peachy, pretty and fresh and know it will go back with the Summer ranges packed with our signature exquisite fabrics, natural fibres and diversity of colour palettes. I'm a big fan of accessories; especially those luscious Fella Hamilton silk scarves and urbane necklaces that complete every look.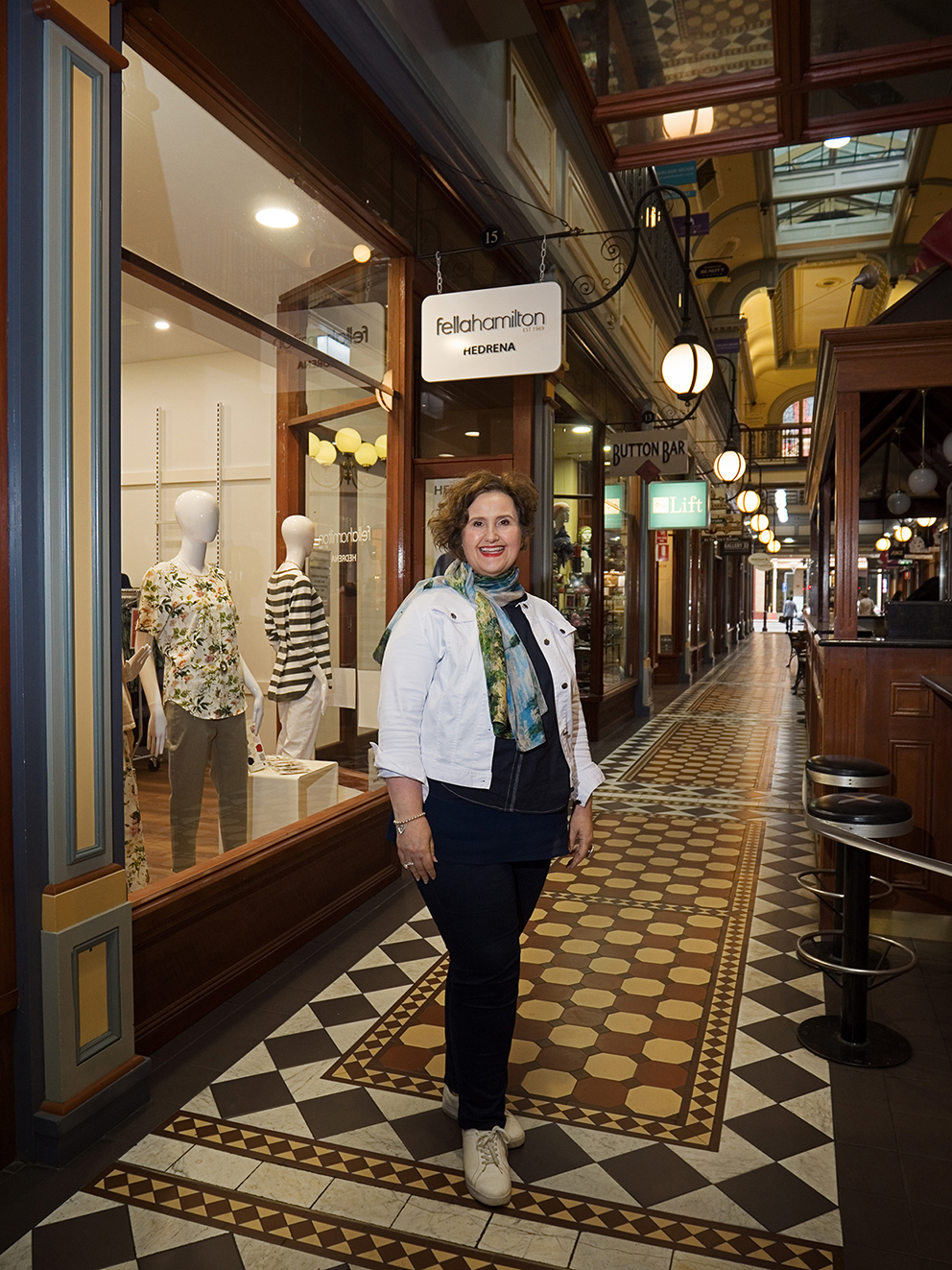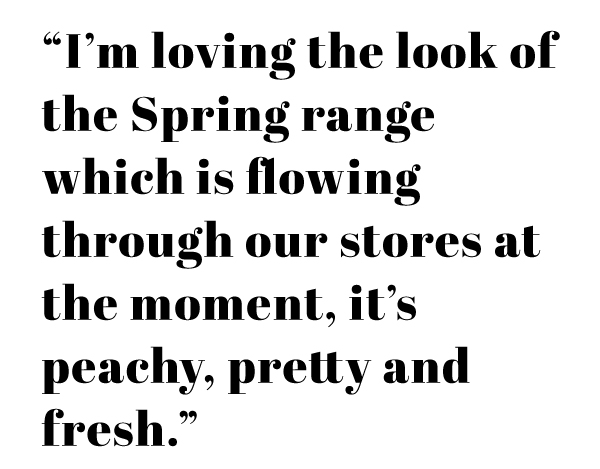 Q4. What has been the highlight working at Fella Hamilton?
Every day is a highlight at Fella, as every day brings some wonderful random act from a team member, colleague or customer, be it a belly laugh containing some wise kernel of truth, a tear jerking testament of resilience, an act of incredible kindness, a creative solution to a challenge, or a brilliant idea well implemented - these are incredible people, whom I am honoured to work with. It's very cool.
On a personal note it gives me great satisfaction to share knowledge from all areas of my life and career. My many years of television work and professional singing ensures I am most comfortable when putting on fashion parades and styling sessions. I love bringing people together, connecting with them and workshopping ideas, showing people how to change up their looks, and giving them practical ideas how to do this. It's highly creative and collaborative work.
MITCHAM FASHION PARADE OCT 2019
MITCHAM FASHION PARADE OCT 2019
PRE-COVID, IN-STORE STYLING SESSION AT THE FELLA HAMILTON MITCHAM SQUARE STORE
Q6. What has been the biggest challenge working at Fella Hamilton?
I'm a people person and I adore our customers. We have a very vibrant, active loyal Fella Hamilton community and the personalities are simply precious. When a customer of mine struggles with any type of health issue I feel it. I am inspired by our customer's resilience in the face of adversity and I'm reminded of this every day within our amazing Fella Hamilton community.
From a practical point of view there are never enough hours in the day to plan, plot and implement all the ideas I have to bring people together to connect and celebrate style!
Q7. With 2020 bringing the challenge of Covid-19, how have you managed to stay connected with your customers?
In Adelaide there was a period of a few months when our stores were closed. During this time, I was able to ring many of our gorgeous customers (most of whom were in lockdown) and have a chat and connect. It was an honour to do that, and so many were so touched and grateful for the call.
Many of our customers were worried about winter approaching, so it was great to be able to package up some of our beautiful knits and Hedrena layering pieces and personally deliver them to their doors. The responses from our customers were heart-warming.
Q8. Have you found anything positive has come out of covid-19?
All of the South Australian team received such positive feedback when connecting with our customers by phone. It really gave our clients the confidence to order via post and even order online – a totally new way to do things for many!
Another positive take out from this time is seeing the loyalty our customers have for the brand. It has been so touching to experience customers showing support for Fella Hamilton because they feel a part of it.
Our customers are so proud of our continued commitment to making garments in Australia. And they love the fact that we pivoted into healthcare and masks to keep our Australian factories in work.
Q9. How do you balance work with personal life?
I'm a lap swimmer, it's a meditation and a workout all in one!
And until relatively recently I had a parallel career in music as a professional singer, and am slowly putting together an album's worth of original material.
One highlight of my music career was when I met Rosie Batty on the way to The Voice audition in Melbourne. I'm much more interested in women of substance and heart than mere celebrity for the sake of it, so this experience meant alot to me.
Q10. In a brighter year ahead, what are you looking forward to achieving in 2021, for Fella Hamilton, and for your yourself?
It's only natural that we all have a greater appreciation for what we took for granted; being able to gather in groups; shop and try on clothes, visit the local cafe, be a lady who lunches and gyms and catches a live show.
From a work point of view, I can't wait to host more in-store events, little soirees or matinee high teas to herald the change of seasons.
SHOP FELLA HAMILTON NEW ARRIVALS HERE!
Back to Meet the Team