MEET THE TEAM | STORE MANAGER: KIM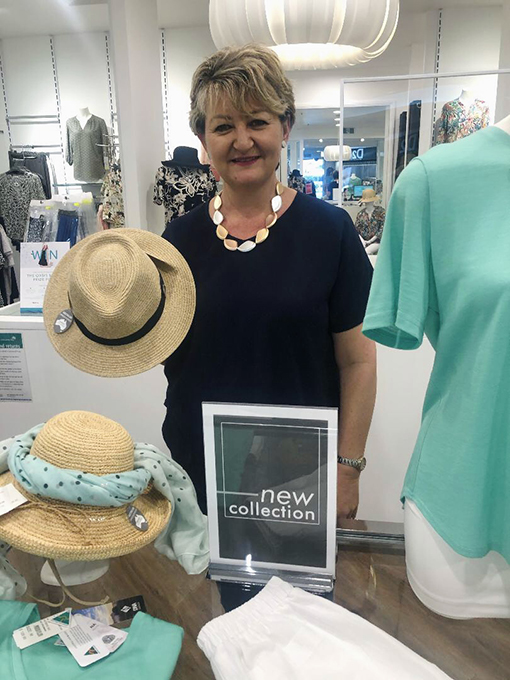 Q1. How long have you been working for Fella Hamilton?
I have been working at Fella Hamilton since April 2019. I knew from the first day in the Broadbeach store that this was the job for me, as it just felt like home. I slotted into the role extremely well and have not looked back since.
Q.2 How have you enjoyed being part of the first of the three Fella Hamilton stores in QLD, and therefore introducing the brand to the area?
I have really enjoyed being the first store to open in Queensland and introducing the customers to the Fella Hamilton brand. Customers are loving the product; some have noted that they have seen the brand in Woman's Weekly and it is so good to now have a local store. Being a tourist destination it's also exciting to be able to introduce the brand to regular overseas visitors to the area.


Q3. What did your work life consist of prior to joining the Fella family?
I have always worked in retail, my role before the Store Manager at Broadbeach for Fella Hamilton was in jewellery. The role was managing a store for a large jewellery chain. I enjoyed interacting and building trust with my customers, especially seeing their faces light up when they found that perfect piece.
Q4. I imagine one of the benefits of managing a store is that you get to know your staff and your customers really well. How do you enjoy that? Do you have any special relationships with particular customers or what are some of the highlights?
I have great staff that I have built a strong relationship with over the past 18 months. I get to know my customers well and have built many special relationships with them. They rely on us for our honesty and knowing what they want. For example, if a new stock garment comes in that would suit their style, I give them a call to advise them there is a piece in store that they would love, and they really love that you are attentive to their needs. One highlight I would like to recount was regarding a customer that was upset after shopping all day and not being able to find anything to wear to a wedding. Her expectations on entering the store was that she would continue to not find anything. Within thirty minutes, we were able to find her the perfect outfit! This made me so happy knowing that I helped this customer who was at a complete loss of what to do. For me, the experience of shopping is about having fun as well as completing the customers shopping needs.


Q5. What do you enjoy most about coming into December and all the festivities related with this period?
Where do I begin!!, I absolutely love December. I love the smell of the fresh seasonal fruits in the grocery stores, the Christmas decorations in the centres, spending time with my family and eating lots of food. And last of all, putting up the Christmas tree (which my grinch of a husband will not let me do until the 1st of December), If I had my way, it would be up mid-November.
Q6. What are you loving about our Spring Summer 2020 collection? I imagine the 'Holiday Resort' story is particularly well received in QLD?
I am loving the bright colours, perfect for QLD. The Holiday Resort is perfect for this time of year, who can go past one of our beautiful kaftans to add to their collection?
Q7. What do you think are some of the 'must have' pieces for the festive season? Those versatile pieces that can take you from a Sunday brunch with the ladies right through to a get together with friends for dinner.
I think the Roselie Stretch Tiered Dress is a must have for the festive season. You can go from a Sunday brunch, right through to dinner with friends with just adding the Vesper Mesh Bolero Cardigan, it is a must have.
Q8. Some of the best gifts at this time of year come from our gorgeous accessory ranges. What are some of your favorites? Is there a hat, necklace, or scarf that you just can't live without?
It is hard to choose which one is my favorite, but I am going to go with the Travel Fedora Flexibraid Hat in the natural colour. I adore the Penina Brushed Shapes Necklace. These are must have for me!
Q9. Do you have big plans for the holiday season this year? Friends? Family? Lunches or dinners?
I have a few Christmas parties booked in this year with new and old work colleagues. On Christmas day I will be spending the day with my family, enjoying special moments with them. We are visiting friends of my husbands on Boxing day for dinner and having a sleepover with our dogs.
Q10. What do you enjoy doing when not at work?
I enjoy spending time with my husband and our two fur babies, Milo the liver-spot Dalmatian and Ruby the Silky Shitzu. I take them to the park every morning for our combined daily exercise. I love going to the beach and frolicking in the waves. I try to maintain my health and well-being by also going lap swimming at the local pool. I also enjoy spending time with my mum on my weekends off.
shop our festive gift guide
Back to Meet the Team