2021 DOHERTY INSTITUTE | PROUDLY SUPPORTING

PROUDLY SUPPORTING THE DOHERTY INSTITUTE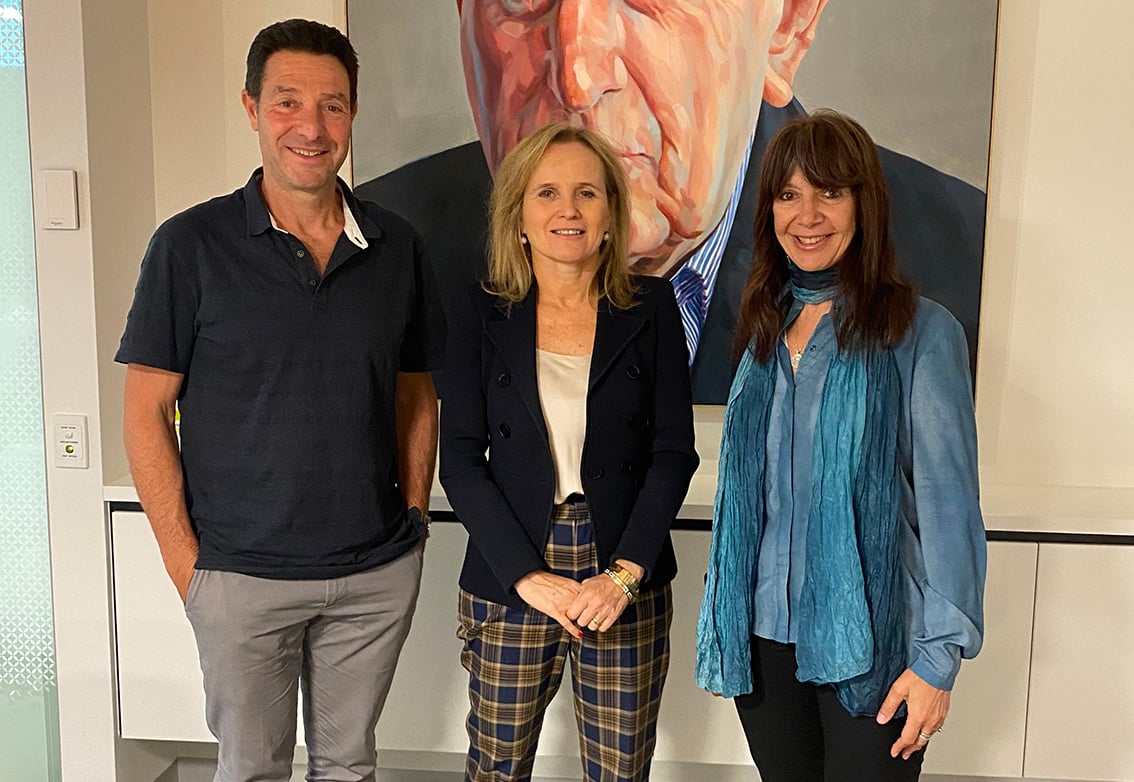 A TOUR OF THE DOHERTY INSTITUTE:
On the 2nd March this year, a few of us at Fella Hamilton were privileged to tour the Doherty Institute's facility and see firsthand the labs and set up. We were able to learn all about the breadth of work that the Doherty Institute does and it was truly amazing. We were guided by Dr Julian Druce who, along with his colleague Dr Mike Catton, was the first scientist in the world (outside of Wuhan) to successfully culture the Coronavirus in the lab and the first to share it with the world. Our tour involved going in to the labs where research is being done on COVID-19, HIV, influenza and more.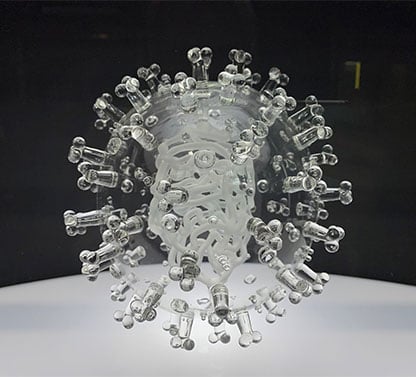 GLASS SCULPTURE OF THE COVID-19 VIRUS (2020) - THIS SCULPTURE HONOURS THE PETER DOHERTY INSTITUTE'S STAFF AND STUDENTS WHO SUPPORT THE COVID-19 WORK.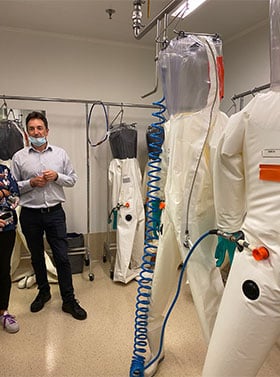 DR. JULIAN DRUCE GUIDING OUR TOUR OF THE DOHERTY INSTITUTE AND EXPLAINING THE SUITS WORN INSIDE THE CHAMBERS.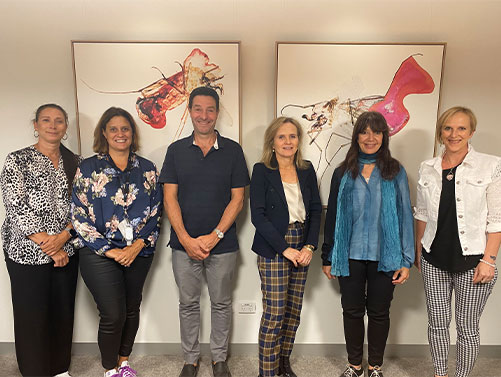 (FAR LEFT TO RIGHT) JODY, ANDREA (DOHERTY INSTITUTE), DAVID, PROFESSOR SHARON LEWIN (DOHERTY INSTITUTE), SHARON & DELWYN.




SHARON AND DAVID WERE INVITED TO THE DOHERTY INSTITUTE'S LIVE TALK:
On the 16th March 2021, Sharon and David were invited to the Doherty Institute's live talk about the COVID vaccines at the Melbourne Convention Centre. The event was hosted by ABC presenter Michael Rowland. There were a panel of Doctors and Researchers including Professor Sharon Lewin, Director of The Peter Doherty Institute of Infection and Immunity.
The event panel included:

Professor Sharon Lewin AO, Director, Doherty Institute

Associate Professor Margie Danchin, Consultant Paediatrician, Royal Children's Hospital and Clinician Scientist at the University of Melbourne and Murdoch Children's Research Institute

Professor Terry Nolan AO, Head of Vaccine and Immunisation Research Group, Doherty Institute and Murdoch Children's Research Institute

Dr Janine Trevillyan, Lead, COVID-19 Vaccination Program, Austin Hub; Head, Clinical Virology and HIV Services, Austin Health; and Infectious Diseases Physician



PODCAST: INFECTION AND IMMUNITY




FELLA HAMILTON WILL BE FEATURED IN THE DOHERTY INSTITUTE'S 2020 IMPACT REPORT (TO BE PUBLISHED IN JUNE 2021):
In June 2021, the Doherty Institute's 2020 Impact Report will ask what Fella Hamilton's motivations are for supporting the Doherty Institute and what we hope to achieve with our support. Read here our featured answers soon to be released in this publication:
1. How did Fella Hamilton first get involved in supporting causes?
As the spread of COVID-19 slowly but surely took a hold of the world last year, here in Australia, we found ourselves transition from a country purely watching on, to just one more country that this pandemic infiltrated.
As a family run business of more than 50 years, with a loyal clientele made up largely of older women, we felt firsthand the fear taking over the older demographic who were particularly vulnerable to Coronavirus. We felt a responsibility toward our customers and our staff to find a way to help.
As with most businesses in Australia, Fella Hamilton felt the effects of this terrible virus and wondered what we could do to help. Initially, we answered the Government call to Australian manufacturers to retool, and we began to produce a comprehensive range of PPE & face masks right here in Melbourne. We wanted to help protect the people who were putting themselves at risk each day trying to keep the rest of us safe. We also saw this as an opportunity to simultaneously provide protective clothing along with reusable non-medical grade masks, whilst tackling the environmental problem of disposable gowns ending up in landfill.
2. What is it that The Doherty is doing that got you excited by our work?
When COVID struck, The Doherty Institute was already in the fortunate position of having done some work on coronaviruses including SARS and MERS. They have purpose-built security labs for dealing with these infectious organisms.
Here was a company that was working on finding solutions to prevent, treat and cure infectious diseases of all type, a company that could very quickly step up and start working on ways to minimise the impact of the Coronavirus.
Fella Hamilton felt an immediate synergy with The Doherty Institute, as we were looking to provide help to those in the medical field and to those that needed protection.



3. What impact are you seeking to make through Fella Hamilton's support of the Doherty Institute?
When asking ourselves the question of what we could do to help during these unprecedented times, it was very clear that we wanted to provide some sort of support to those working behind the scenes to fight this virus.
"A proportion of our customers are in the high-risk, vulnerable group to COVID-19. We wanted to support the Doherty Institute, and believe our customers could appreciate and relate to the important work the Institute does." CEO Sharon Hamilton said.
Not only did we come up with a campaign to raise money for The Doherty Institute, but we were thrilled to be able to provide their staff working from home with our Australian made reusable masks in their corporate colours.
A by-product of supporting The Doherty Institute has been our ability to raise awareness of their profile and the important role they have here in Australia. We have been able to educate our customers as to the vital work the institute does that prior to now, they were probably not aware of.


4. How have your customers been inspired by the campaigns you held last year in support of The Doherty?
Our first campaign to raise money for The Doherty Institute last year was highly successful. For every knitwear garment sold by Fella Hamilton, $1 went to the institute. We educated our customers on the important work being done by The Doherty Institute and they stepped up.
In fact, it was such a successful campaign last winter, that we are about to launch it for a second time in May this year. We know there is still so much work to be done on this insidious virus, and with the help of our amazing and supportive customers, we know we will once again be able to contribute a significant amount towards the important work being done by the Institute. It goes without saying that our customers were thrilled knowing that a portion of what they spent would go towards The Doherty Institute.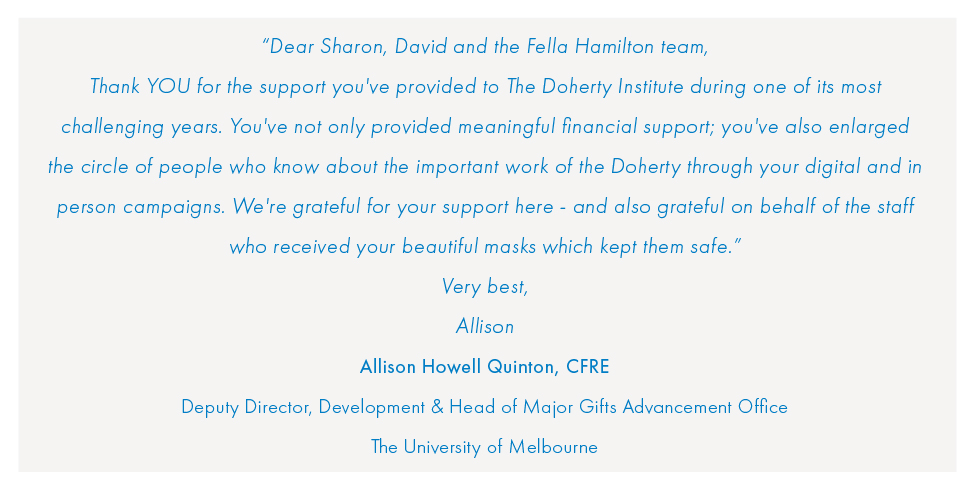 OUR SUPPORT OF THE DOHERTY INSTITUTE CONTINUES:
The Doherty Institute has been at the forefront of the global response to COVID-19 and works on all aspects of infection and immunity through research, education and public health. Their mission is to improve health globally through discovery research and the prevention, treatment and cure of infectious diseases.
Last year thanks to our wonderful customers, we were able to donate $10,076 to the Doherty Institute. Along with a donation, we supplied the Doherty Institute with non-surgical face masks for their workers working from home or commuting to and from the Institute.
This year - in further support of this outstanding institution, and in Fella Hamilton's commitment to contribute to the wellbeing of all Australians, our company will donate $1 from each knitwear piece sold to the Doherty Institute.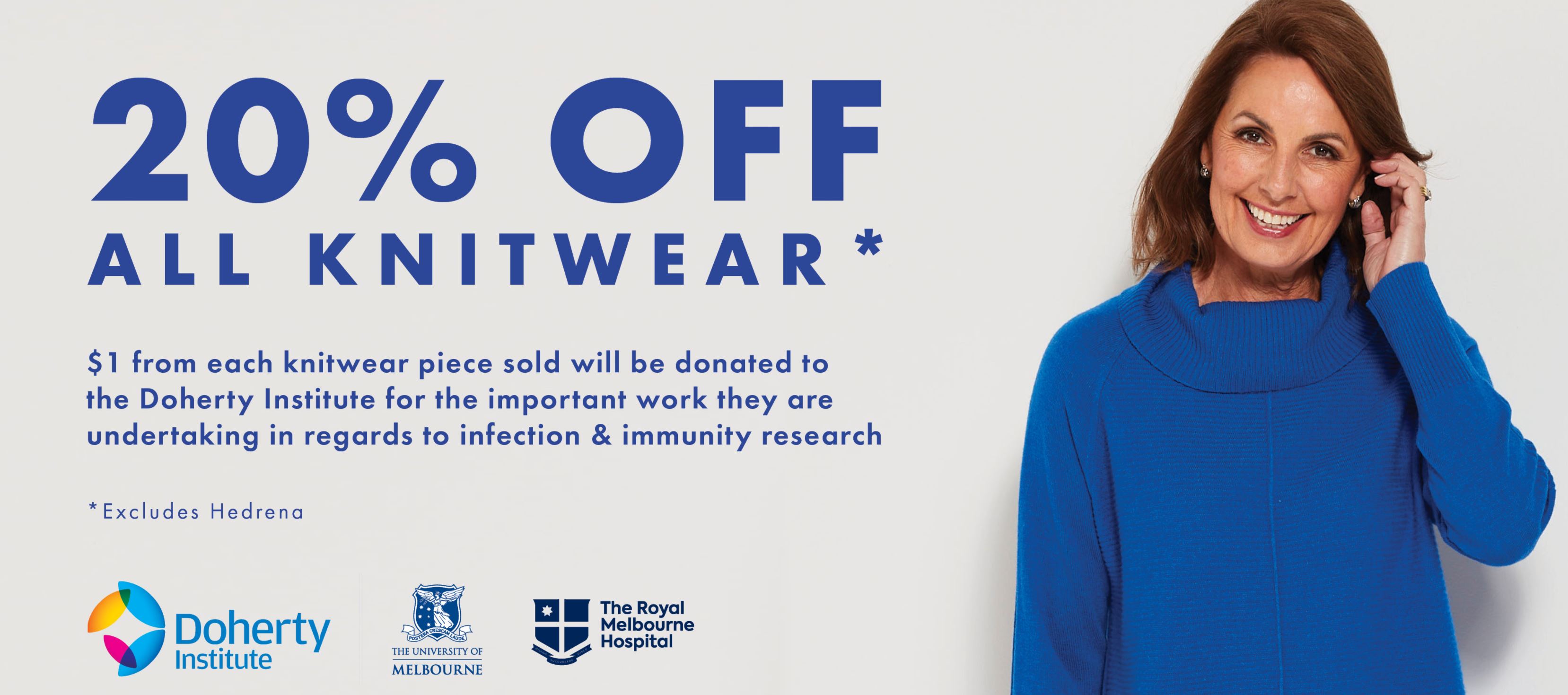 Back to News