A warm welcome was received by our store staff when the new Glenferrie Road Malvern shop opened in October last year. Set amongst an eclectic mix of shops, restaurants, cafés and services, this Fella Hamilton store has quickly found its feet within the friendly Malvern community and its neighbouring suburbs. We spoke to Carmel, the Store Manager.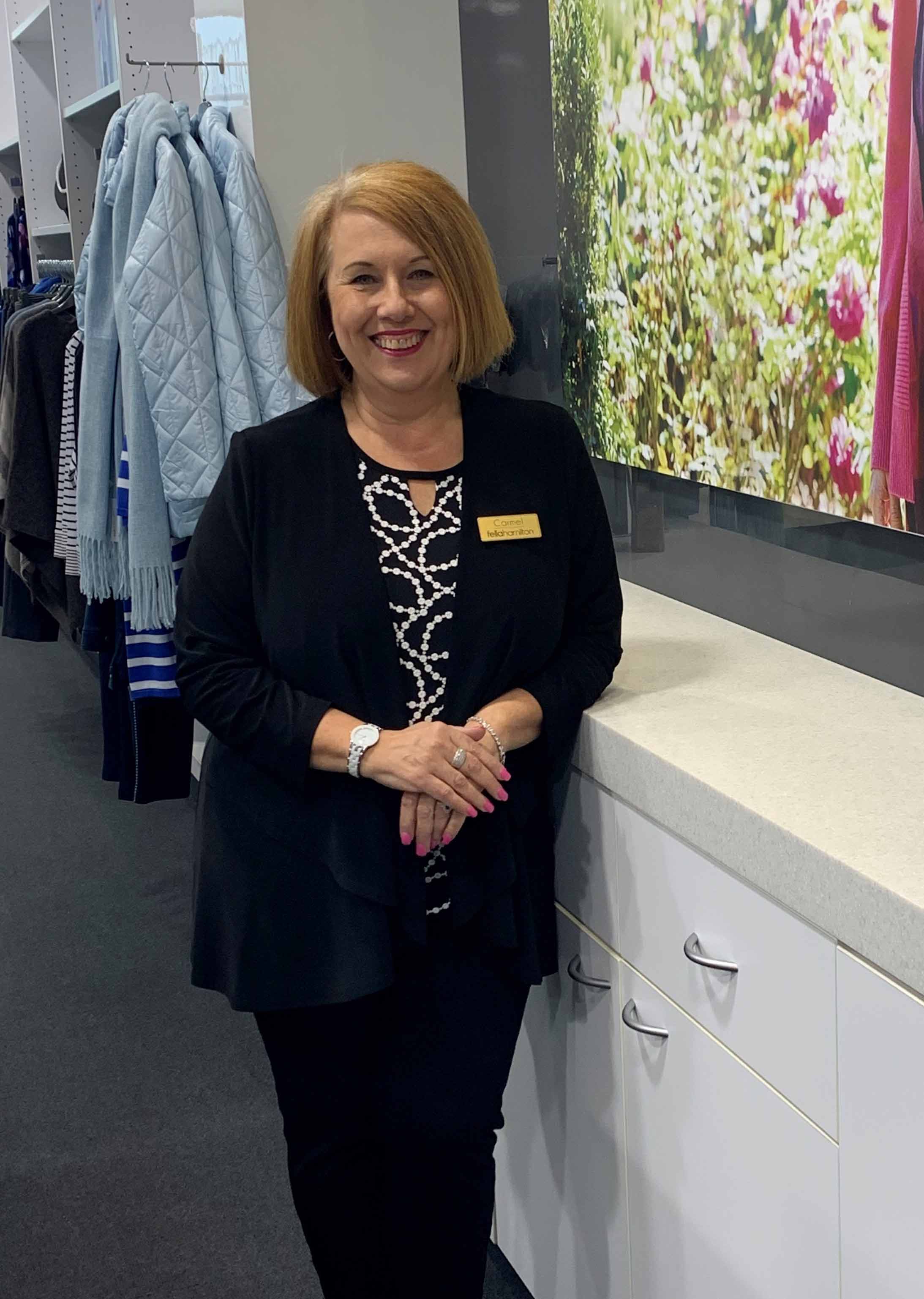 Q1. How long has the Malvern store been open for, and were you part of the opening?
The Malvern store opened on the 30th October 2021, so we have now been opened for 9 months and I officially started on the 1st November 2021. I was lucky enough to be here from the start and to see it begin to grow. When we opened, we had many ladies come in and say how excited they were to see us open up on Glenferrie Road. On my first day at the Malvern store, Fella came in to see the new store and I was lucky enough to meet her. This was pretty special for me.
Q2. How long have you worked at Fella Hamilton for, and what do you enjoy about being the Store Manager?
I was lucky enough to acquire a casual position just out of the 2020 lockdown with the Mt. Waverley store, where Narelle was my manager and taught me so much. In Feb 2021, I needed to find full time employment and very sadly had to resign. But then Malvern was opening and I was successful in applying for the role of Store Manager. I was so happy to be back. I so enjoy being the manager of the new Malvern store but I can't do it alone. I have a great team which includes Bernadette, who I have worked with previously in retail and was lucky enough to have her join us and Anne who has had many years in the fashion industry. We all love coming to work and sometimes can't believe that we actually get paid to have so much fun whilst looking after our customers. I wish I was 10 years younger so I could work 10 years longer.
Q3. How has the store been received by the local Malvern community?
Everyone is loving that we are now here. Many of our customers live in the Malvern area and are very happy that we have opened on Glenferrie Road. In the beginning we had ladies coming in after their Pilates class, they were told we had opened so came down after the class to see us. Word started to spread and more customers popped in. Everyone has been very welcoming, and we have many ladies drop in just to say "hi" which is a lovely feeling.

Q4. How has Fella Hamilton been involved in the local community?
We were very fortunate to be invited by the ladies of The Menzies Social Committee to present at a fashion parade they held for us back in April. It was a lovely afternoon, good for the store to be highlighted and it was fun with the ladies too. We have many drop in to buy or just to say "hi".
Q5. What can customers expect to see and do when shopping in and around Fella Hamilton on Glenferrie Road?
Our customers can expect to receive great customer service when they come into our store. From when they enter the store to when we close a sale. If they are unsure about what they want we are more than happy to style them up with an outfit... or 3, and we always offer styling sessions by appointment. Our customers tell us that they love coming in to our store.
Q6. What do you love most about the local strip and its customers?
Malvern is a beautiful area to shop in and the people are very friendly. I love that we're building a nice rapport with our customers and also the stores surrounding us. Given the wonderful community feel, and given that we are all dog lovers in the store, we have a collection of Fella Hamilton Malvern doggies that come in with their mums. We have Miss Lily Lavender who is always in her mums' shopping basket, Jasper the joyous jumpy poodle, River the Schanuzer who is an assistance dog, Snowy the Westy who comes in with his mum and while he waits, he always eyes off the pom poms on our beanies. Then there's Milly the rescue greyhound who wears shoes and lies down and waits patiently for her mum to shop. We certainly can't forget one of our friendliest doggies which is Bella - Bella often comes in to see us with Sharon and David Hamilton, and this is always a treat. I volunteer for a dog rescue and we all love that the dogs pop in to see us.
Q7. Where is your favourite place to grab a tea or coffee?
We are lucky enough to have Glick's two doors down from us. They make great coffee and their blueberry bagels for breakfast are delicious!
Q8. Are there any local community events coming up?
Glenferrie Road is putting on "Malvern on Ice" from Thursday 4th August until Sunday 7th August, and there will be ice skating set up in the street adjacent to our store. All you need to skate is a receipt from a Glenferrie Road store or to make a gold coin donation to the Stonnington Toy Library. Whilst some of our ladies would not be skaters, they have said they will be taking their grandchildren to have a skate.
Q9. Lastly, with the anticipated Fella Hamilton Spring Summer collection nearing its launch, what can customers except to see?
We are already having our customers asking when the new Spring collection will be instore. They are asking what colours will be in and what styles. We can't wait to see the collection ourselves very soon, and when we do, we can pass on what is coming for Spring Summer 22. We feel we are going to have a great new season!
Back to News