DAYS FOR GIRLS CHARITY| OUR INVOLVEMENT




WHAT IS DAYS FOR GIRLS?
Starting in 2008 as a small yet passionate volunteer-run organisation, Days for Girls now has a robust network of more than 70,000 volunteers around the globe.
Founder and CEO Celeste Mergens was working with a family foundation in the outskirts of Nairobi, Kenya where she began assisting an orphanage. In the wake of historic post-election violence, the population at the orphanage had swelled from 400 children to 1,400.
With the devastating situation weighing heavily on her mind, the practical question nagging at Celeste was: "What are girls doing for feminine hygiene?" Upon seeking an answer from the orphanage, the reply that came back was "Nothing. They wait in their rooms."
Celeste learned that girls were sitting on cardboard for several days each month, often going without food unless someone would bring it to them. These days of isolation meant precious days of lost schooling and days of lost opportunity. This set in motion her first intervention - disposable pads. But without any place to dispose of the pads, this was neither a viable nor a sustainable solution. It was time for Plan B: a washable, long-lasting pad.
The first Days for Girls Kits were quite different from the designs in use today. Extensive feedback from thousands of women and girls around the globe ensured the designs met unique cultural and environmental conditions throughout the world. Over the years, what has become clear is just how much of a difference hygiene solutions make in assisting women and girls to break the cycle of poverty and live lives of dignity.
Today, Days for Girls has reached more than 2.1 million women and girls in 144+ countries with DFG Kits and menstrual health education. This translates into over 115 million days of dignity, health, education and opportunity!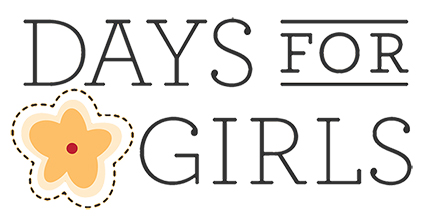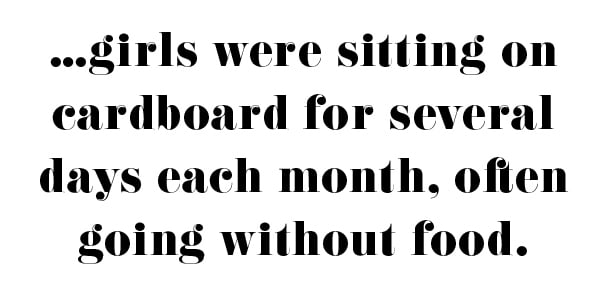 The Kit (or 'Portable Object of Dignity') -
Developing the DFG Kit has been a labour of love for this charity, the result being a solution, reported by users to last for up to 3 years.
Hand sewn by volunteers or enterprise leaders, who are all held to a quality standard, the pads are made from bright coloured fabrics in order to camouflage staining. Every aspect of what goes into the kit has been thoughtfully considered, because what the girls see matters. It is imperative the girls feel comfortable using the pads.
The kits are not complete without vital health education! It's crucial that girls learn about their menstrual cycle, good washing practices, health, safety, and why being a woman is worth celebrating! Education is the key to creating long-lasting, sustainable change in communities and breaking down many of the barrier's girls face.
Days for Girls Australia (DFGA) -
When was the Australian branch of Days for Girls founded?
Days for Girls began in Australia in 2012 after the recently retired Founding Director - Gloria Buttsworth - had a visit from her friend who runs a children's home in northern Uganda. The two got talking about the girls in the home, particularly their hygiene needs. Most of the girls could not afford sanitary products, resulting in many of them missing school repeatedly, with many eventually dropping out. The question occurred to Gloria (as it had many years earlier to Celeste): ''What can I do?''
The answer appeared in the form of the Days for Girls International (DFGI) Menstrual Health Programs. Gloria contacted Celeste Mergens, and the rest is history.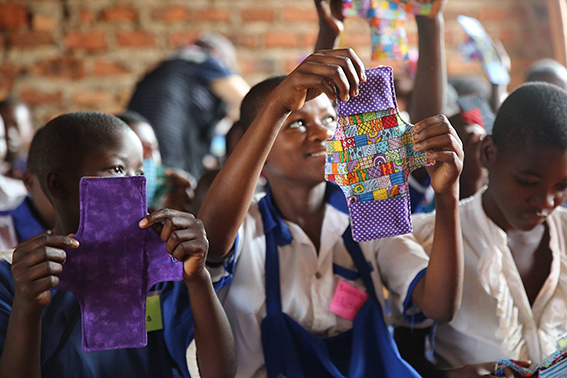 A DISTRIBTION IN KAYUNGA, UGANDA



Fella Hamilton's role -
When Carolyn Walker, Days for Girls Australia Victorian Co-ordinator, approached us in September 2020, we jumped at the chance to donate our expertise and time in order to help make a difference to the lives of so many girls and women around the world.




Q1. How did you become involved with this amazing charity?
I actually discovered Days for Girls by accident while searching for information about another organisation. I immediately began downloading patterns and instructions and started to seek the support of some of the Days for Girls Teams nearby to where I was living. I have always been an avid seamstress with a good network of creative and like-minded friends, and co-started the Camberwell Team in 2014 with Mary Connelly-Gale, who is now the Australian Coordinator. Despite a tree-change to the Macedon Ranges in late 2015, I continue to be a co-director of a large group of amazing volunteers with the Camberwell Chapter. I also lead the Macedon Ranges Team, which I began soon after moving to the region.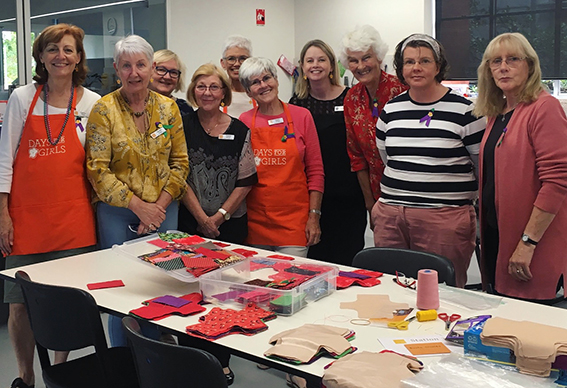 CAROLYN WALKER (FAR LEFT) AND THE CAMBERWELL CHAPTER VOLUNTEERS
Q2. What led you to approach Fella Hamilton last year?
It wasn't until I heard Fella Hamilton being talked about in the media as a company that successfully pivoted from women's garments to PPE and masks during the height of the Covid pandemic, that I realised you manufactured here in Melbourne. I contacted your CEO, Sharon Hamilton with the hope that you might be able to assist in machine cutting the waterproof, polyurethane laminate (PUL) fabric used in the making of the menstrual hygiene kits, which are handmade by our volunteers.

Up until now, the DFGA volunteers have either hand traced and cut the PUL, which is labour intensive and time consuming, or used a machine with a specially made die cut, which is faster and more accurate, but unfortunately does result in a large amount of wasted fabric.
With the help of your pattern maker Diana, and your cutter Tan, we saw how you were able to work out the quickest and most economical way for our PUL to be cut.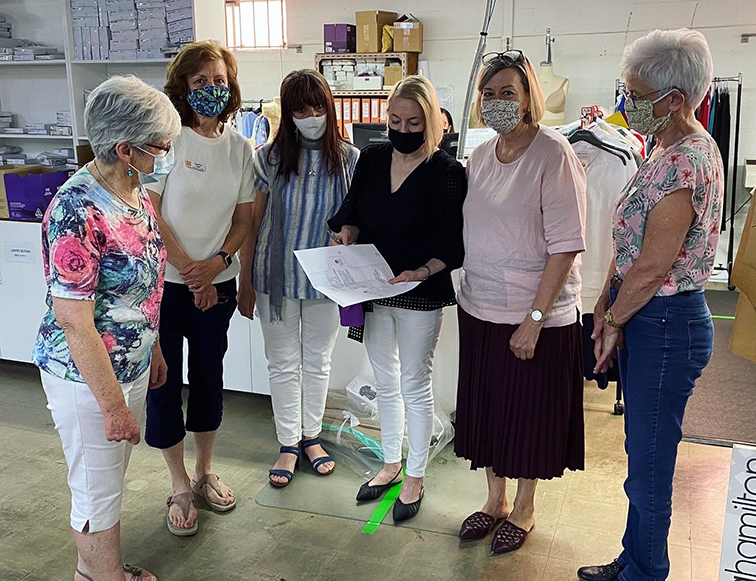 A VISIT FROM 'DAYS FOR GIRLS' - FROM FAR LEFT, SANDRA PLUNKETT (DFG), CAROLYN WALKER (DFG), SHARON HAMILTON (FH), ADRIENNE ROACHE (FH), DIANA FOUNTAIN (FH) & LEE BARKER (DFG).



Q3. Can you tell us a little more about how Days for Girls Australia operates?
Today, Days for Girls Australia (DFGA) is made up of 125+ Teams and Chapters right across the country. When we started up here in 2012, we were made up of just 4 teams. I am proud to say that Australia now has a network of volunteers who sew and distribute from every State and Territory, Australia-wide. Since we began recording our Kit distributions, we have distributed over 192,000 Kits to girls in 63 countries around the world. 45,682 Kits were distributed across 44 countries in 2019/20.


Q4. Moving forward, apart from the shields, how else can Fella Hamilton help DFGA?
The waterproof polyurethane fabric is not only used in the shields. Prior to March 2019, heavy duty zip-lock bags were an important part of the Days for Girls Kit. These were used for storing the soiled liners until the girls had access to water to wash them. With many countries introducing bans on plastic bags, Days for Girls needed a more sustainable solution for this purpose. A Transport Bag made from the PUL was designed and is another item that our volunteers now make using a printed PUL fabric that is waterproof on the inside and has a pretty pattern on the outside. The PUL fabric is wide and slippery to work with so our Team and Chapter leaders are thrilled that they can now access precut transport bags from Fella Hamilton ready to sew!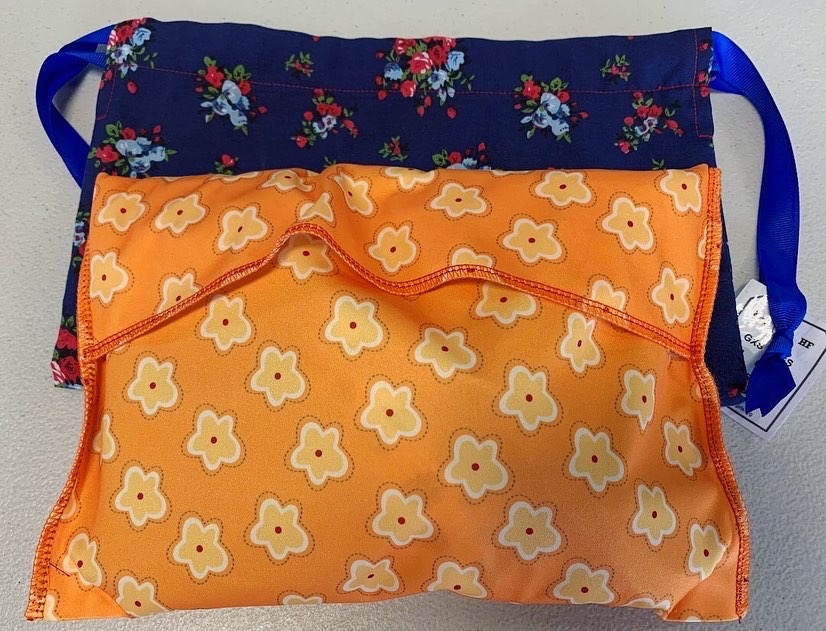 TRANSPORT BAGS / 'WET BAGS' MADE FROM THE PUL FABRIC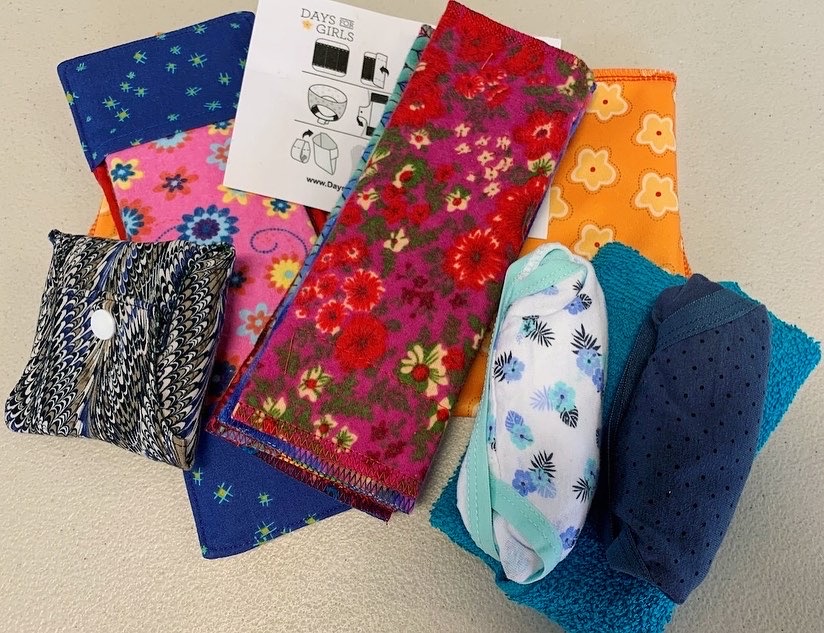 ITEMS THAT MAKE UP A 'DAYS FOR GIRLS' KIT
DRAWSTRING BAGS HELP TO CARRY THE 'DAYS FOR GIRLS' KIT


More Information -
If you would like to find out more about the incredible work Days for Girls does or perhaps this struck a chord and you might like to consider volunteering your time or support, here is the link to the Australian arm of the charity.
Back to News