ECA WEEK | WITH GRATITUTE TO STAFF

DURING 'ETHICAL CLOTHING AUSTRALIA' WEEK, DAVID & SHARON HAMILTON SPEAK ABOUT THE IMPORTANCE OF AUSTRALIAN MADE AND SAY A HUGE THANK YOU TO ALL OF THEIR STAFF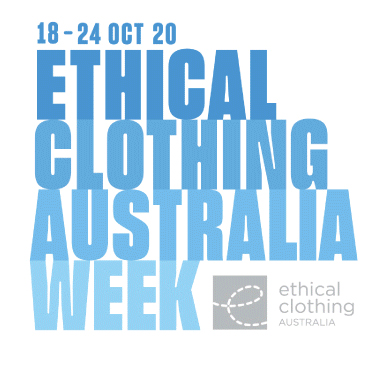 WE FIND OUT WHAT SOME OF THE LONG-STANDING FELLA HAMILTON STAFF HAVE TO SAY ABOUT THEIR TIME AT WORK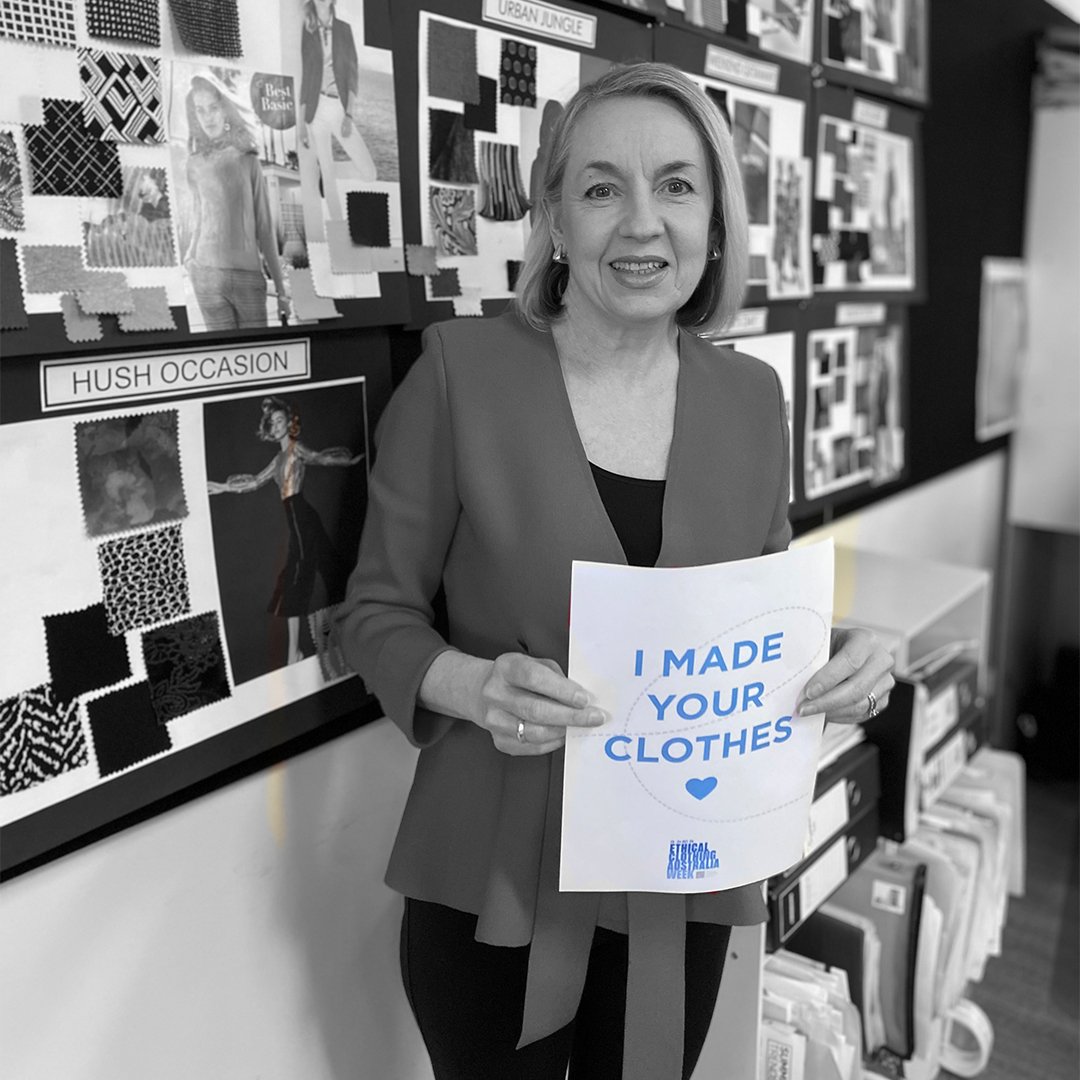 ADRIENNE - FASHION DESIGNER
When we talk about our Designer of 12 years, Adrienne, three words instantly spring to mind: kind, caring and hard-working. But if you asked us to go on, we could so easily come up with a myriad of words to describe this modest and generous woman.
What are some of the things Adrienne enjoys most about working at Fella Hamilton?
"I love the feeling of working in this family owned company, it is very special. I am surrounded by such beautiful people, which makes coming to work such a pleasure. In my role as Designer here, I am constantly challenged and really enjoy the variety that comes with a job like mine".
What do you think is Adrienne's favourite thread colour?
Adrienne has chosen Red as her favourite thread colour, which tells us she is action oriented and optimistic. She also radiates a great deal of energy, which is something her Spoodle, Avalon, is especially happy to know!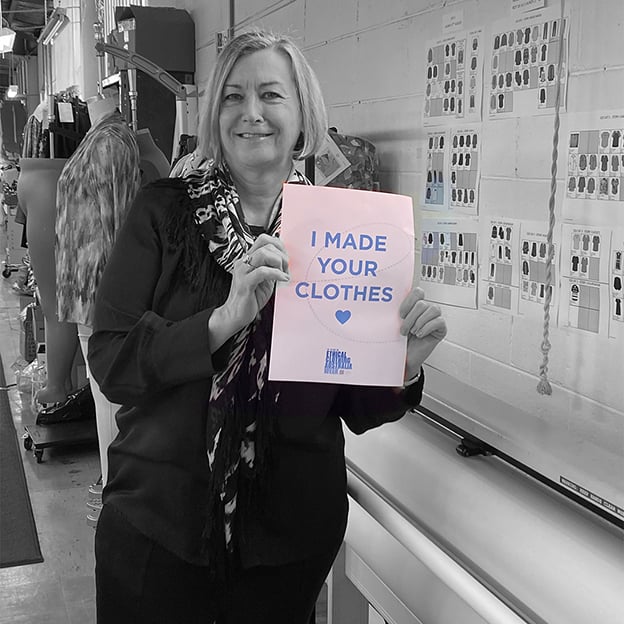 DIANA - PATTERNMAKER
Diana has been with us for 3 years now as Fella Hamilton's Patternmaker extraordinaire.
"Friendly, flexible and focussed" is how she describes herself, and we couldn't agree more. And with Red being her favourite colour, it is no surprise that she is a driven and active person.
What are some of the tasks Diana enjoys most in her job?
Diana was quick to respond, "Number one is that I love working with a great team of people, something that's really important when spending so many hours of our week in the factory. Overcoming the challenges that the styling and fit of a garment can throw up at me provides me with a constant source of satisfaction. And thirdly, I cannot go past admitting that using a well-designed CAD patternmaking software program brings a lot of joy to the work I do and helps me enormously".
So is Diana a dog or cat person?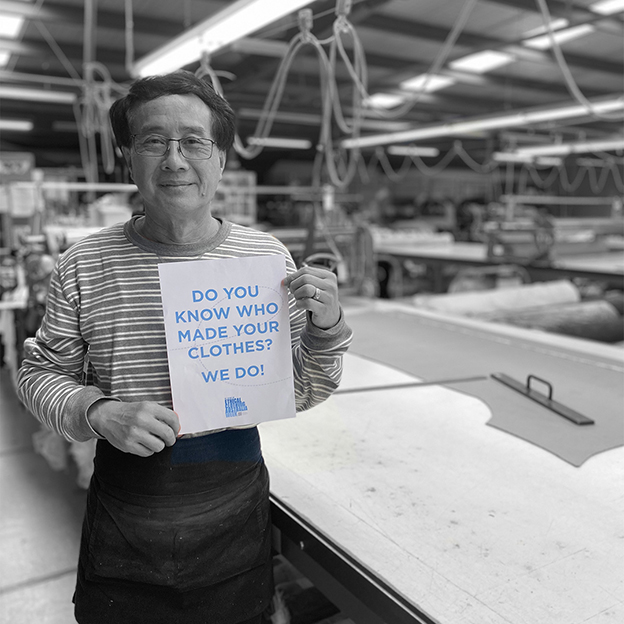 TAN - CUTTER
For 8 ½ years, the steady hands of Tan have been cutting out garments at Fella Hamilton, something he has had 25 years of experience in.
It takes a special kind of person to do a job like this, and we totally agree with Tan in the three words he uses to describe himself when asked – "Patient, caring and reliable".
What does Tan enjoy the most about his job?
"Everyday my job brings me challenges that I really enjoy having to deal with and solve. The team work here is also such an important part of what I enjoy most about my job. The people are all so lovely".
What else did we find out about Tan?
To give you a little further insight into our Cutter Tan, he is a man that prefers dogs over cats, and his favourite thread colour when put on the spot is Mission Brown! This colour tells us a lot about Tan – it is a shade that represents earthy and organic materials, and that you are a person who is drawn to nature and enjoys a simpler way of living. Feels like a life lesson for us all, thanks Tan.

KATE - SAMPLE MACHINIST
Being a Sample Machinist is a job that keeps Kate constantly busy. Let's face it – she is sewing together all those garments that we love to bring to you each and every season.
For 16 years, this "quiet, considerate and open-minded" lady has sampled up some of our all-time best sellers!
What does Kate say is the most interesting part of her job at Fella Hamilton?
"Making samples means I always have something new to do. Often I am working with either a new style or a new fabric, sometimes both. The work can be challenging at times whilst at other times I feel more comfortable and familiar with a garment. One thing is for sure, I definitely will never get bored with the work I do".
Is Kate a dog or cat person ?
Kate does not have a pet at the moment, but given the chance, her preference is a cat!
What colour do you think Kate prefers?
Green is Kate's favourite colour with a love of nature springing instantly to mind.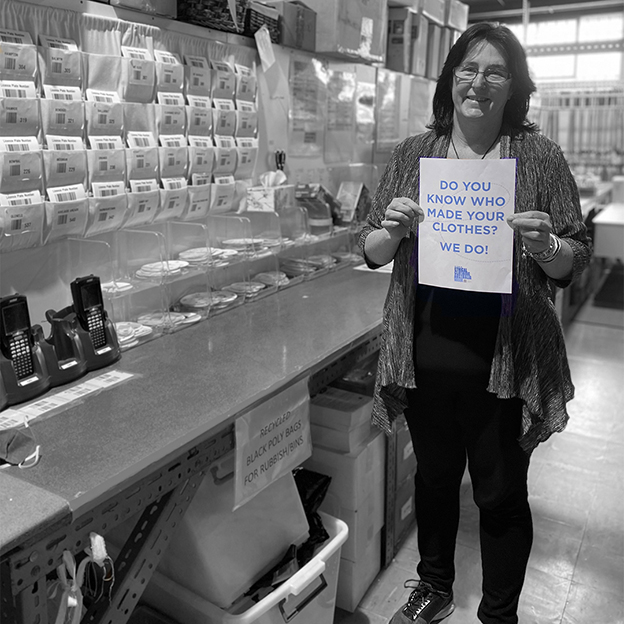 SAM - TECH GURU & DESPATCH
Having been with Fella Hamilton for 9 years, Sam is the first person we call on for anything Tech related. In this day and age, in a company this size, Technical Support is one huge job. And if by some miracle that doesn't keep Sam busy enough, she also looks after Despatch for us.
How does Sam describe herself at work?
We think Sam knows herself very well, as the words we would use to describe her are the same words she uses to describe herself "hardworking, dedicated and helpful".
"Where possible, I love to help others in the office, that definitely gives me diversity in the things I do every day".
Want to know more about Sam!?
Preferring cats over dogs everyday of the week, and with Emerald Green as her favourite thread colour, now you know a little bit more about Sam Adams, our Tech Guru!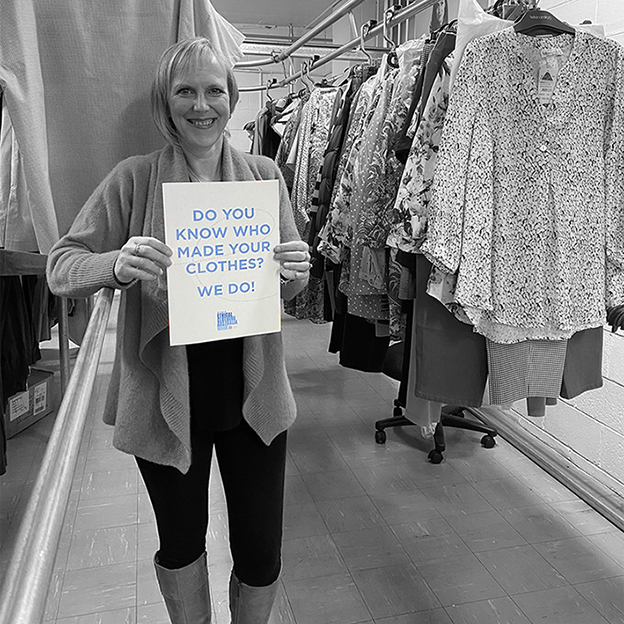 DELWYN - "I DO WHAT IS NEEDED"
When we ask Delwyn what her role in the company is, she says "I don't have a specific title – I just do what is needed". And that is Delwyn's work ethic to a T!
Del has been a part of the Fella Hamilton family for 23 years, on and off, at 3 different stages of her life. Each time has seen her in a variety of roles which certainly keeps her on her feet.
When asked to describe herself, "Caring, passionate and dedicated" were her words, and how apt they are.
What are just a few of the many roles Del has held over the years?
She started in the business as a Pattern Maker and Production Manager. Second time around she turned her hand to the retail side of things, where over a 16-year period she went from Store Assistant to Manager to Area Manager for Victoria and NSW.
Delwyn is currently back at Head Office after being coerced out of retirement. She is working on our new website, overseeing the Mail Order and E-commerce side of things, and is even involved in product allocation.
So what is it that makes someone continue to return to a company year, after year, after year?
"I love working for a company that makes so many people happy. It's so nice to work with people who all enjoy a good laugh. Having to adapt to an ever-changing environment, as well as the challenge of problem solving when needed, keeps my brain active. The variety of work I do, and constantly learning new things, certainly keeps me on my toes".
What else do we know about Delwyn?
It should not surprise you after reading all this information about Del that her favourite colour is a bright and sunny Sky Blue, and that she is a dog lover of her 2 pups – Bonnie & Sophie.
VIEW OUR NEW SPRING / SUMMER RANGE HERE
Back to News