FESTIVE GIFTING WITH TONIC | WE CHAT TO TONI & NIKKI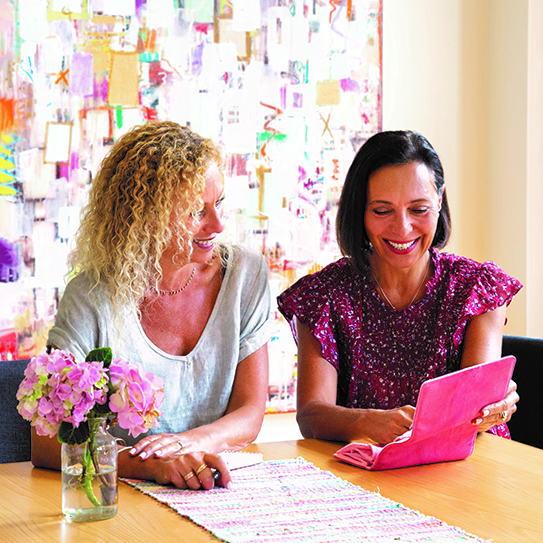 1. HOW LONG HAS TONIC AUSTRALIA BEEN IN BUSINESS, AND HOW DID THE COMPANY COME ABOUT?
Our story began 29 years ago as two lifelong friends with a passion for living a beautiful life. We wanted to create products for people who seek moments, experiences, and products and gifts beyond the ordinary.
2. WHERE DO YOU GET YOUR INSPIRATION FROM EACH SEASON FOR YOUR BEAUTIFUL COLLECTION OF PRODUCTS?
We are inspired by Australia's beautiful landscape, flora, and fauna, and most of all our community. We passionately create products that are both beautifully and thoughtfully designed. Our team of designers, retailers, marketers, and product developers are at the forefront of what's trending, we are always looking, creating, and forward-thinking.
3. YOUR PRODUCTS HAVE BROUGHT PEOPLE SO MUCH JOY OVER THE YEARS, HOW DOES THAT MAKE YOU FEEL?
We are incredibly proud! Our love for gifting and sparking emotion has driven us to create products that people love, and love to gift. It's always a delight to see our products in various stores all over the world, as well as on social media and across websites.

4. WHAT WOULD YOU SAY IS YOUR BEST-SELLING PRODUCT AT THIS TIME OF THE YEAR?
Our product range is vast, we work with over 530 retail and boutique partners globally. Keeping seasons and holidays in mind, our entire range sells exceptionally well all year around. We're proud to say we've sold over 1,000,000+ Heat Pillows worldwide, and our team works hard to achieve goals that move our business forward. Our brand continues to grow and as a team who cares deeply about product quality and relevance, timing is a valuable part of every product lifecycle.
5. GIVEN TONICS COMMITMENT TO SUSTAINABILITY BY MAKING CONSCIOUS CHOICES, CAN YOU LET US KNOW SOME OF THE DECISIONS YOU'VE MADE IN THIS AREA OVER THE YEARS?
We are a conscious business, there are many ways we can reduce our environmental impact and we strive to do this. A great example is using recycled lining (RPET) in our Flourish cosmetic bags and where packaging is necessary, we use a recyclable box made from PET. It may take many years to complete, but we are committed and working hard every day to remain sustainable from the heart and leave our planet in a better way than we found it.
We developed ECO Tonic with the three pillars of economic, environmental, and social in mind. It provides us and our customers with peace of mind that we consider these at every stage of our product lifecycle. Our commitment to prioritising sustainable practices and ethical trade with our suppliers, supply chains and all aspects of our production is at the forefront of our business.
Eco Tonic provides us with the tools to reduce waste, recycle, and protect our precious environment.
6. HOW DOES YOUR BUSINESS GIVE BACK TO ITS COMMUNITY?
After coming across a man asleep on a park bench on a freezing cold Melbourne night, Toni decided to take the coat off her back and give it to the man. She thought, after-all she was on her way to her warm home.
From there, OFF YOUR BACK came to life and for over 20 years nearly 150,000 coats have been donated through Victorians generous support via Off Your Back coat drives and through our collection points. The Salvation Army distributes the coats to ensure they get to Victorian's most in need. OFF YOUR BACK has managed to distribute these coats without one cent. Coat collections & drives with friends, schools, sporting clubs, workplaces and more have helped us facilitate this amazing community effort. The Tonic team contributes every year to the collection, sorting and storage of coats, as well as the hosting and maintenance of the website www.offyourback.com.au.
7. WITH A BRAND-NEW YEAR AROUND THE CORNER, WHAT ARE YOUR GOALS FOR 2022?
We have big plans! Our team are working hard to streamline processes, applications, and programs to create even more efficiency in our business. We are constantly pushing the envelope to create unique products for the next season, as well as new Marketing strategies that can bring brand awareness, and new customers to both our online store, and our wholesale store.
8. HOW WILL YOU SPEND TIME THIS FESTIVE SEASON?
The festive season is all about family, friends, and gifting. We take the festive season as an opportunity to relax and unwind and spend time with our loved ones. We often find it's a great time to strategise and build new ideas for our business as we experience the gifting season.
9. DO YOU HAVE ANY TIPS OR TRICKS FOR ANYONE LOOKING TO CREATE CHERISHED MOMENTS THIS FESTIVE SEASON?
Consider the emotional connection when gifting this festive season. Gifts should tell a story, spark an emotion, or problem solve for a customer. As a gifting destination, we put together some well thought-out gift sets for customers. For example, our 'Meditation and Calming Gift Set' which includes a Heat Pillow and an Eye Pillow - the perfect story for gifting a feeling that many seek.
SHOP OUR LIBERTY GARDEN OF LIFE RANGE
Back to News