ISO CERTIFICATION | WE SPOKE TO SAMANTHA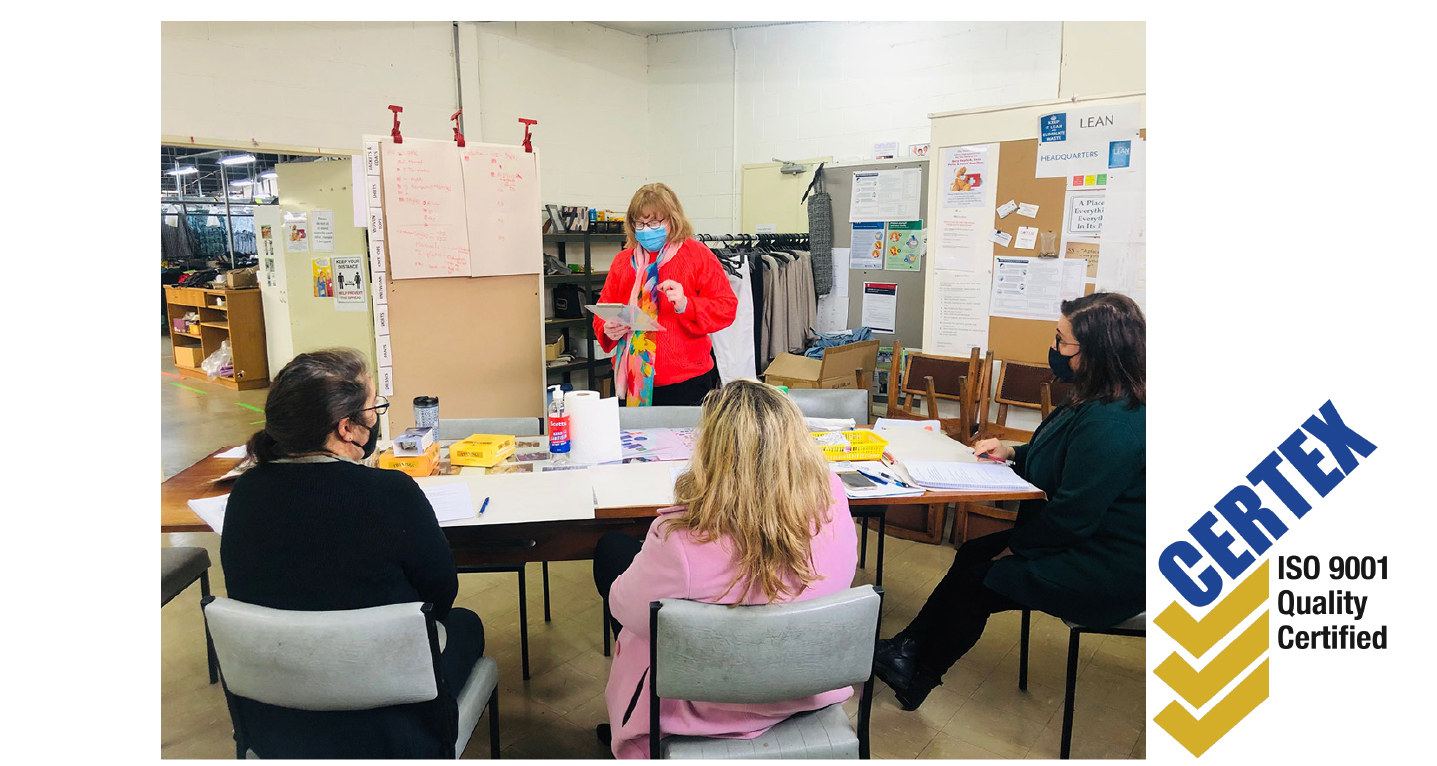 ISO 9001:2015 Quality Management System certification guarantees that our systems, processes and procedures, in place, ensure quality standards of our product and of our system, making sure there is consistency and we work towards continual improvement for efficiency and customers satisfaction.
Overall, having this certification will help performance output and other benefits such as opportunities to enhance customer satisfaction, address risks and opportunities associated with our objectives of Fella Healthwear business and demonstrate conformity to specific quality requirements, as defined by us.
Being an Australian owned and operated manufacturer, the COVID-19 pandemic has shown us that we can be at the forefront, developing and providing quality Australian made health wear garments to the medical industry and the wider community. We are committed to our quality policy, values and mission, while also fulfilling obligations set out by industry and governing bodies.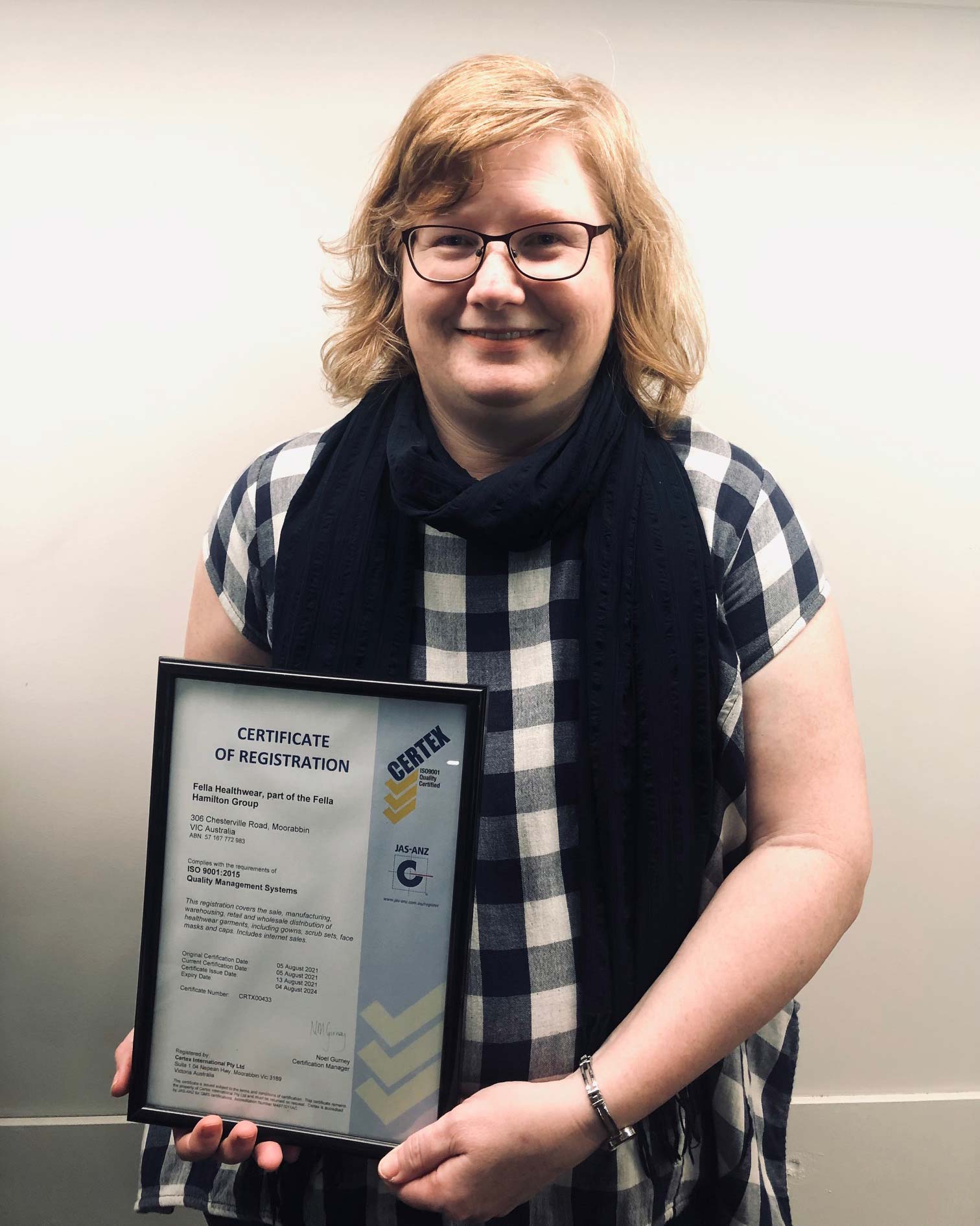 Q1. HOW LONG HAVE YOU WORKED AT FELLA HAMILTON AND HOW DID YOU BECOME INVOLVED IN THIS SPECIAL PROJECT?
I worked a stint in QC (Quality Control), then mail order in 2009-2010 as a casual. Then 2014 we launched a new website, which really took off and I helped out in mail order once again. In 2015 I was permanently employed as inventory control and administration – anything to do with retail operations and assisting, Sharon and David in day-today operations. At the end of 2020 I needed a break from full time work. I now work casually on projects to assist the business. I like to be organized and this type of work suits me – working on different projects keeps life interesting, the roles, skills and people vary everyday I'm in the office.
Q2. YOU HAVE BEEN EXTREMELY BUSY IN THIS LAST YEAR AS THE PROJECT LEADER - WHAT HAS BEEN THE HIGHLIGHT FOR YOU?
The highlight was receiving the certification! It was very challenging – I don't come from a design or production background so spending time with all the teams and listening to them explain what they do and how they achieve it was a great learning experience. Also going through the experience of preparing for the certification audit was challenging, but also fulfilling.

Q3. DOES THIS CERTIFICATION ALIGN WITH FELLA HAMILTON'S CORE VALUES AND IF SO, HOW?
It absolutely does. Our core values of Quality, Customers and Staff align with a Quality Management System. They are at the forefront of everything we do – our practices and processes in ISO 9001: 2015 are based on these. Customer satisfaction, quality and consistency of product, dedicated staff and always aiming to improve.
Q4. WHAT TEAMS AT FELLA HAMILTON HAVE BEEN INVOLVED IN THIS PROJECT WITH YOU, AND HOW HAVE THEY CONTRIBUTED TO GAINING THE CERTIFICATION?
Just about everyone has been involved! The design team, pattern makers, cutters, production, finance, dispatch and our Healthwear retail staff, and of course Sharon and David. From the outset it was important for me to gain understanding of our process. The process from initial design or concept right through to delivery was mapped out, then it was a matter of understanding how our systems and processes could adopt a quality management system. Everyone really took the time to explain aspects of each step (I probably asked the same questions 20 times!) to me and they were also open to ideas, change and any implementation that was required.
Q5. GIVEN FELLA HAMILTON'S ONGOING COMMITMENT TO SUPPLYING HEALTHWEAR TO THE MEDICAL AND HEALTH SECTORS DURING A TESTING TIME WITH COVID-19, WHAT HAVE BEEN SOME OF THE BRAND'S BIGGEST CHALLENGES SO FAR?
Initially it was finding out about what the requirements of the industry were. Were there certain standards? Were there any legal requirements? What actually were our nurses, doctors, the general public in need of? Sharon, David and our designer, Adrienne did a lot of work on suitable fabrics, designs, testing, TGA approval etc. It was time consuming for everyone, gaining understanding of regulations and specific requirements. Our challenge now is commitment and constant communication within our organization, and with our suppliers, health care providers and the general community.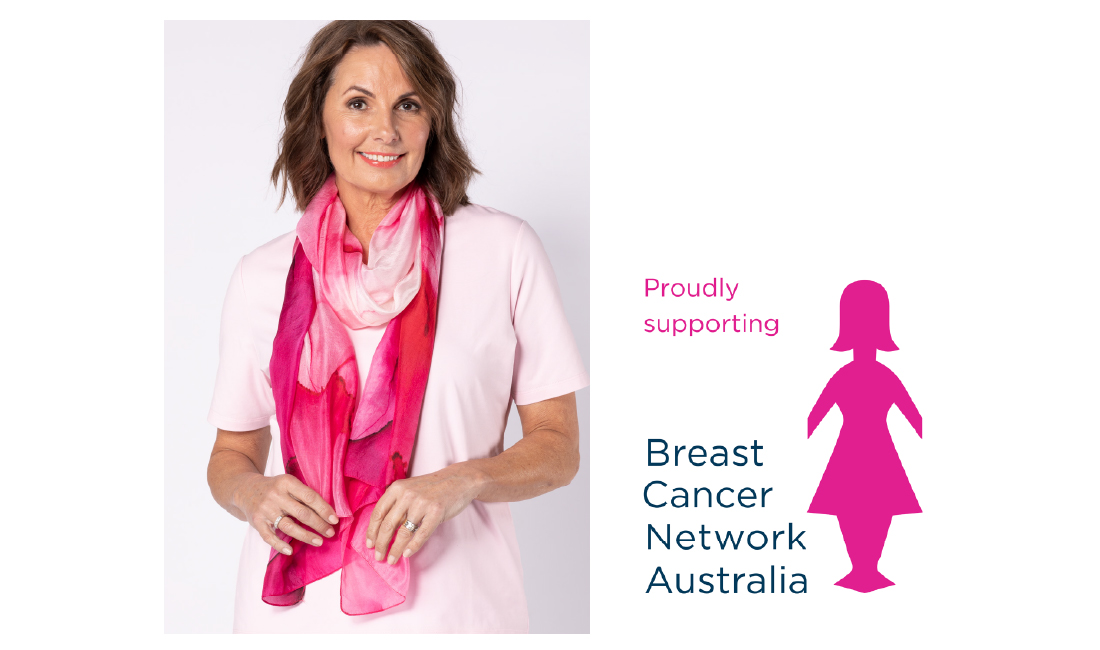 Q6. GIVEN FELLA HAMILTON'S COMMITMENT TO QUALITY, WHAT CAN FELLA HEALTHWEAR CUSTOMERS EXPECT TO RECEIVE NOW THAT THE GARMENTS ARE OFFICIALLY CERTIFIED?
Our customers can be sure we are committed to providing them with a quality product! Whether it be a chic mask or a water-resistant robe to protect health care professionals, we are committed to our QMS.
Q7. WHAT DO YOU NOW HOPE TO ACHIEVE AT FELLA HAMILTON IN 2022 AND BEYOND?
Even though I did want to take a break, I am grateful Sharon and David asked me to come back on board to assist with project work. At this stage, I would love to just get out of lockdown and be able to drive to mums (she is 100kms from Melbourne). Working casually into 2022 suits me to a tea at the moment, it's been great, I'm taking it a few months at a time!
A FINAL NOTE:
The commitment of our teams has been fantastic! I'd like to thank everyone. We embarked on this project in difficult times. Constant lockdowns, different rules at different times for working, manufacturing, retail, abiding by strict covid practices, looking out for everyone's health and well-being, working by zoom, at home, by phone or email, we have had everything thrown at us, (including an earthquake!) but we still worked harder than ever and the outcome of this certification is a wonderful achievement!
Back to News